We have gathered different tutorial versions of the Rail Fence Quilt Pattern for you to create.
1. Rainbow Rail Fence Quilt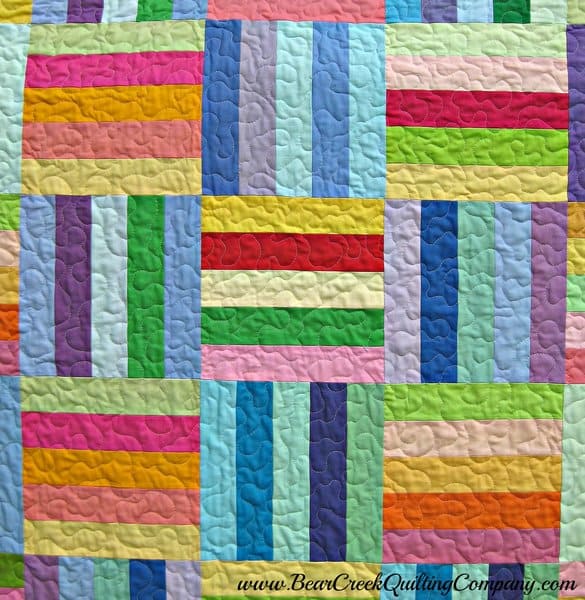 The Rainbow Rail Fence Quilt is a free quilt tutorial designed by Cheryl Brickey of Meadow Mist Designs for Bear Creek Quilting Company. In this quilt project, she uses the Sunrise Palette and a Sunset Palette from the Kona Cotton Roll-Ups fabric collection by Robert Kaufman Fabrics.
A quick and beginner friendly rail fence quilt pattern with a twist.
Learn more about Rainbow Rail Fence Quilt pattern here.
2. Simple Stripes Quilt
The Simple Stripes Quilt is another version of the classic rail fence quilt. This is a free quilt tutorial designed by Amy Smart of Diary of a Quilter featuring the Nest fabric collection by Valori Wells for Free Spirit.
This is a beginner-friendly quilt where you can use your scraps. This quilt project is made of 16 blocks for a baby quilt, however, you can make more blocks to make a bigger quilt.
3. Split Rail Fence Baby Quilt
An adorable baby quilt pattern that is perfect for a baby shower gift or can be an addition to your little one's nursery room. This Split Rail Fence Baby Quilt is a different version of the Rail Fence Quilt. It looks like a basket weave too.
Just continue repeating the pattern of the Split Rail Fence to make a larger quilt.
If you are looking for more Split Rail Fence Quilt patterns. Visit here .