Aiming to construct a rainbow quilt that's vivid and colorful? We got you! Rainbows are the ultimate reminder that even in the depths of despair, there can be beauty. We compiled an arsenal of your go-to rainbow quilt pattern list in all competency levels. Whether you're a beginner, intermediate or advanced quilter, you'll find a spark of inspiration from these designs. Brighten up your home with these eye-popping, lively and fun patterns.
Free Rainbow Quilt Pattern – Top Picks
1. Rainbow Waves Quilt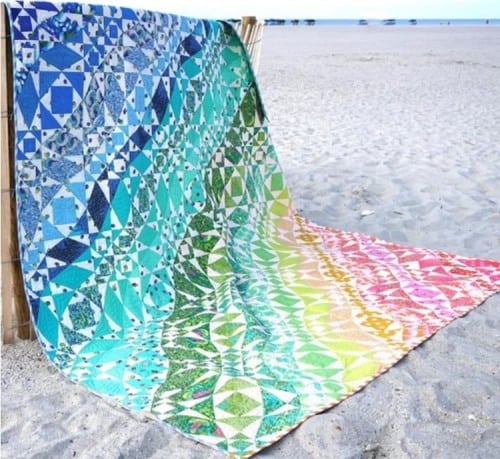 This modern Rainbow Waves quilt is perfect when you want to add a pop of color to your living room or bedroom. The design on this quilt will remind you of the waves lapping at the beach shore. It combines various shapes like diamonds, squares, and triangles. The pattern is paper pieced to produce wavy color motions. This is perfect for advanced quilters who are up for a challenge. Designed by Stacey Day for Free Spirit Fabrics featuring the Zuma fabric collection by Tula Pink, the finished quilt measures 80 inches x 96 inches.
Learn more about Rainbow Waves Quilt pattern here.
Rainbow Waves Quilt is one of the many variations of the Storm at Sea quilt project. Download your favorite design from these Top Storm at Sea quilt patterns now!
2. Strip and Flip Baby Quilt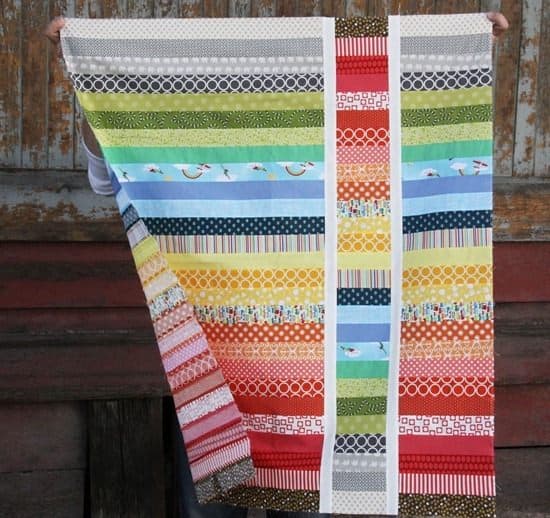 Ready your strips and make a radiant design with this rainbow baby quilt pattern! This beginner-friendly pattern is best for a quick weekend quilt project. It is recommended to use colorful fabrics to produce a bright pattern. All you'll need is fast strip quilt piecing and you'll have a colorful quilt replicated in no time. This design came from Cluck Cluck Sew. The finished quilt measures 36 inches x 41 inches
3. Pixel Rainbow Quilt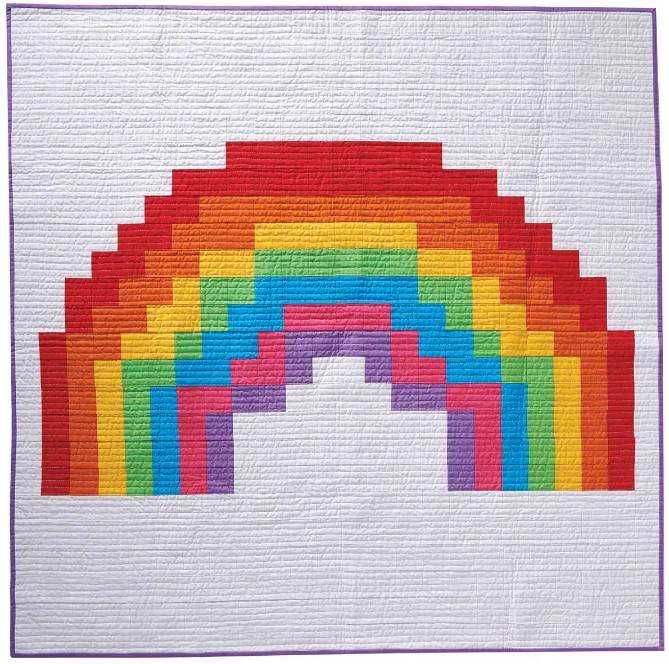 No need to wait for the rain to stop. Stare at this charming rainbow all day in the comfort of your home! This pattern highlights an identical rainbow design with a modern twist. It's an excellent first pattern patchwork for beginners because it is constructed entirely from squares of plain fabrics. Sarah Ashford crafted this design. The finished quilt measures 60 inches x 60 inches.
4. Cascading Rainbow Quilt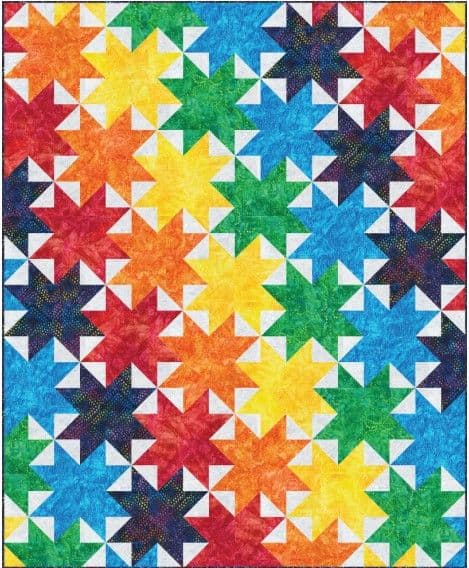 Cascading Rainbow Pattern comprises half-square triangles to produce colorful star polygons. It is designed by Elise Lea for Robert Kaufman. This pattern is ideal for intermediate and experienced quilters. The finished quilt measures 54 inches x 66 inches.
5. Rainbow Taffy Quilt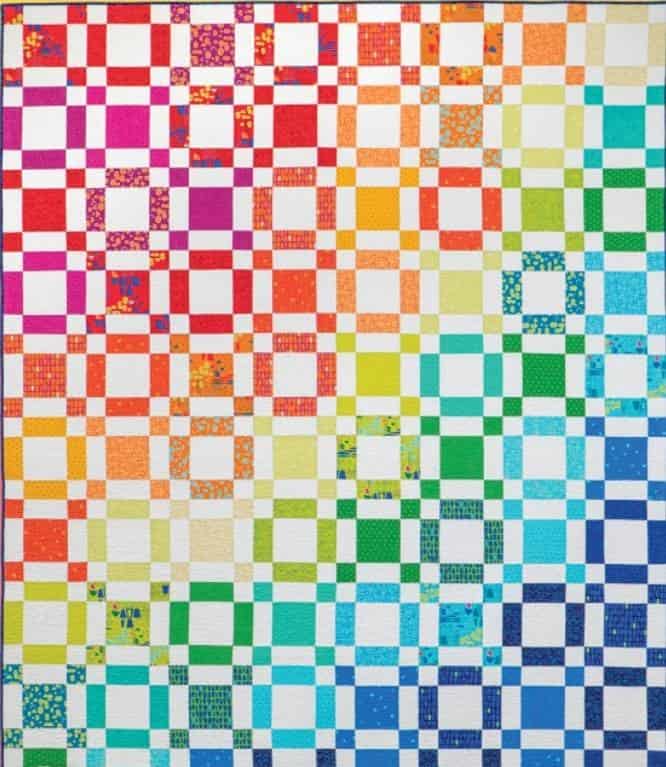 This pattern is perfect to brighten up any teenager and kid's bedroom! The blocks are arranged in rainbow order, but you can experiment with the design and color placement to obtain a different look. The printed fabrics are cut in squares and are carefully arranged and sewn to achieve a detailed color placement. It's one of the designs of Christa Quilts and is perfect for beginners. The finished quilt measures 68 inches x 85 inches.
6. Rainbow Matrix Quilt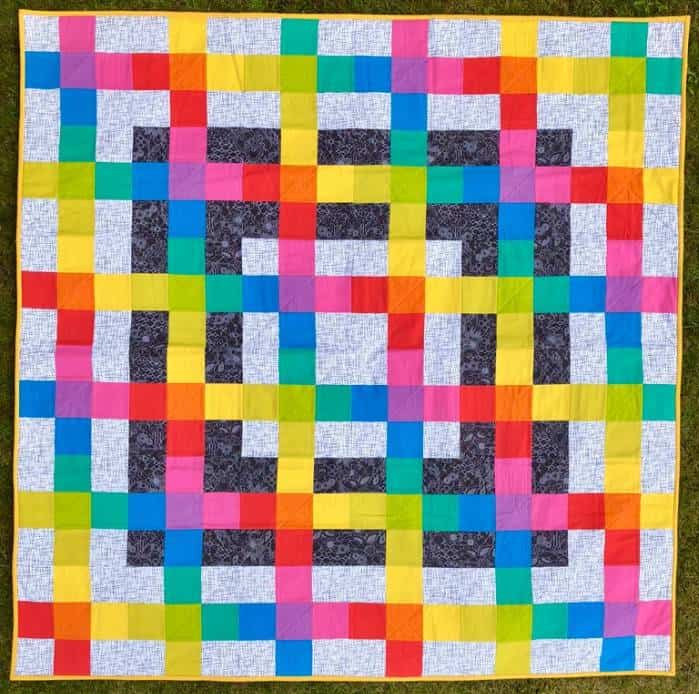 If you love baking and quilting, this Rainbow Matrix quilt pattern surely reminds you of the lattice top of a pie crust. It's made up of 6 different-colored blocks and nine patches forming a rectangular array. This pattern is best to brighten up picnic dates! Paula Steel of Paula Steel Quilts owns this beginner-friendly quilt.
7. Rainbow Baby Quilt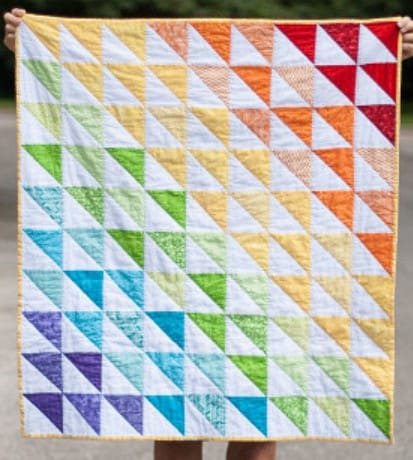 The Rainbow Baby Quilt is a fun and exciting pattern to try. The rainbow-colored fabrics are cut into half squares to produce a bright slanting or a zigzag style. It is perfect for beginner and expert quilters alike. The design is shared for free by Crystal. To recreate this, two sizes for the rectangle for the back measuring 35 inches x 7 inches and 35 inches x 26 inches are needed.
8. Rainbow Showers Quilt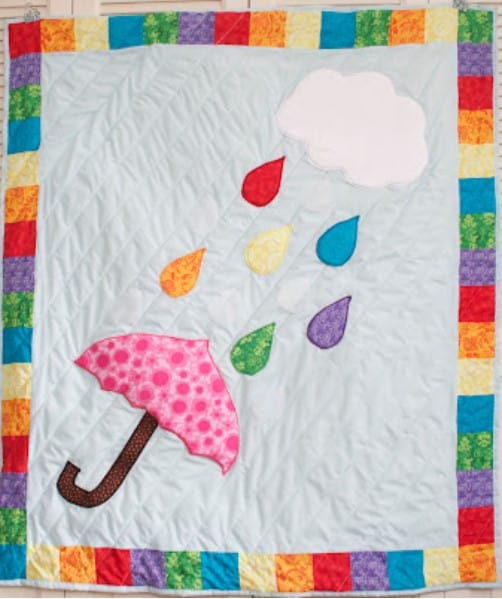 Are you a firm believer that there's always sunshine after the rain? Then this Rainbow Shower is a must-try pattern! It showcases coordinated rainbow-hued borders, a fluffy rain cloud, bright-colored raindrops, and an umbrella. Don't miss out on adding this as a captivating decor for your child's wall! Cheryl of Sew Can Do designed this cute pattern for Pellon projects .
9. Rainbow Showers Quilt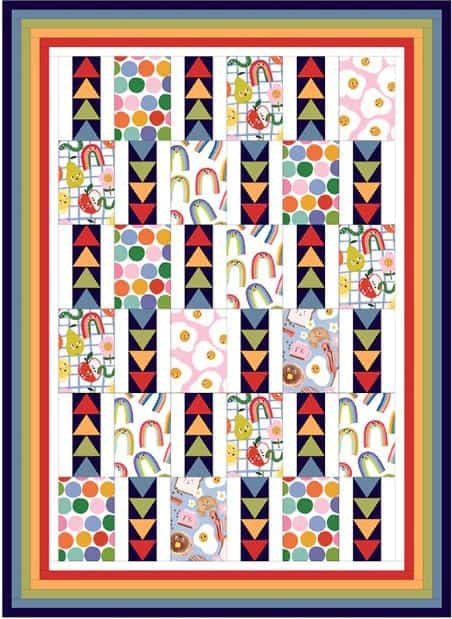 This edgy and colorful Eat the Rainbow quilt will bring out the child in you. The use of printed and plain-colored fabrics created a worthy-looking lap quilt. Rainbow blocks are formed in an alternating triangle position. The design is crafted by Jennifer Long for  Paintbrush Studio Fabrics. The finished quilt measures 50 inches x 68 inches.
10. GO! Piece of My Heart Strip Quilt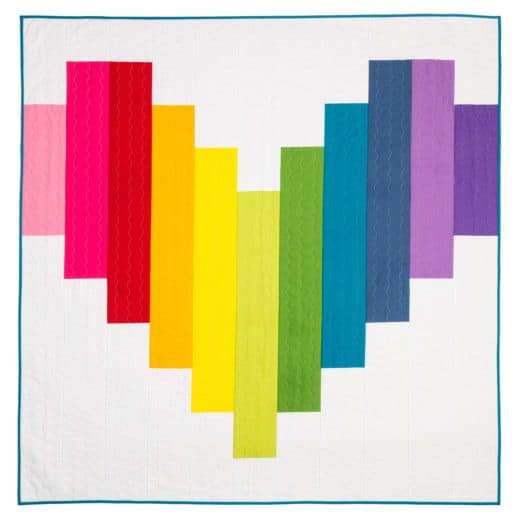 Give love not only on Valentine's day but the whole year round with this lovely GO! Piece of My Heart Strip Quilt. If you are just starting to quilt then this Rainbow Heart quilt is perfect for you. The beautiful colors spark joy and will make you feel excited to complete this quilt. Give it as a holiday present or make one to cheer you up when you are lonely.
Learn more about GO! Piece of My Heart Strip Quilt pattern here.
Spread love by adding Valentine and Heart Quilt Patterns to your to do list.
11. Pinwheel Parade Quilt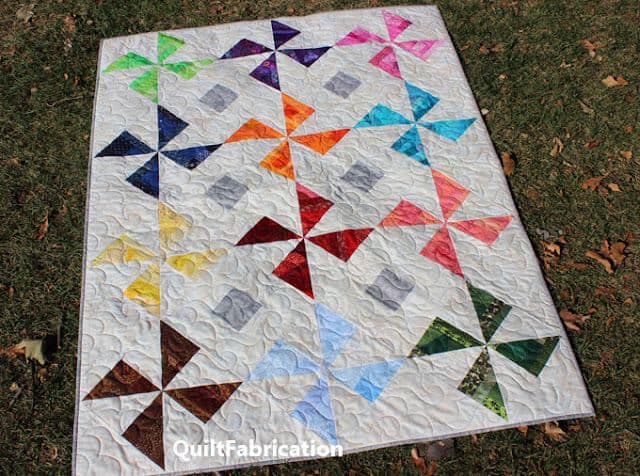 A stash buster Pinwheel Quilt to reduce those long kept scraps. The Pinwheel Parade Quilt is a fun project to use those crumb blocks. Make sure to choose fabric colors that are close together to make an illusion.
Learn more about Pinwheel Parade Quilt pattern here.
Love Pinwheel Quilt Projects? Be inspired and create your next quilt from the Best Pinwheel Quilt Patterns round-up.
Printable Rainbow Quilt Patterns To Download From Online Shops (Paid)
1. Rainbow Swirl Mini Quilt
The twisting pattern of this colorful and vibrant pattern brings a dynamic ambiance to your home. It was carefully pieced to form a whirling motion. This fun and unique pattern are ideal for novice and experienced quilters alike. This design is brought to you by Down Grapevine Lane. The finished quilt measures 23.5 inches square.
2. Prism Dust Quilt Block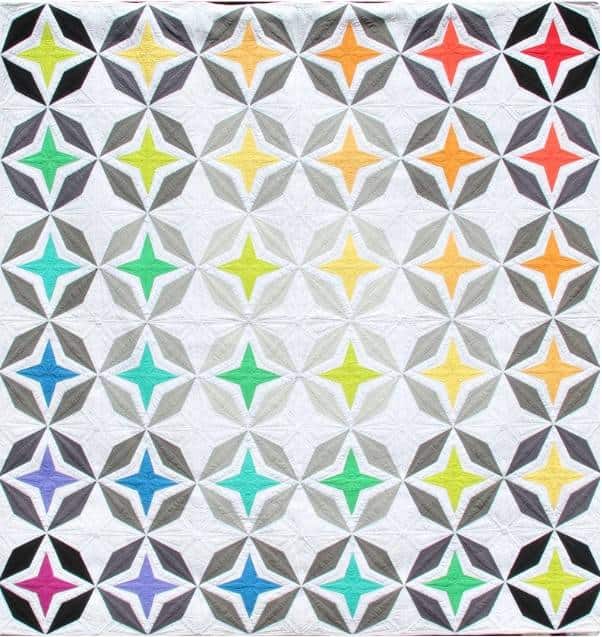 This modern triangular paper-piecing pattern highlights gradating rainbow colors. This picturesque pattern is easy and quick to accomplish. Prism Dust is designed by Jen of A Quilting Jewel. Keep in mind that the pattern doesn't come with detailed instructions and fabric recommendations. The finished size is 12 inches x 6 inches.
Looking for more Cathedral Window quilt patterns? Check out this Top Cathedral Window quilt patterns that we collated.
3. Rainbow Diamonds Baby Quilt
This simple but alluring pattern is ideal for quilters who have just commenced their quilting journey. The half-square triangle angled in a slanting manner creates a sophisticated look. It was designed by Linda Robertus. The finished quilt measures 30 inches x 42 inches.
4. Rainbow Star Quilt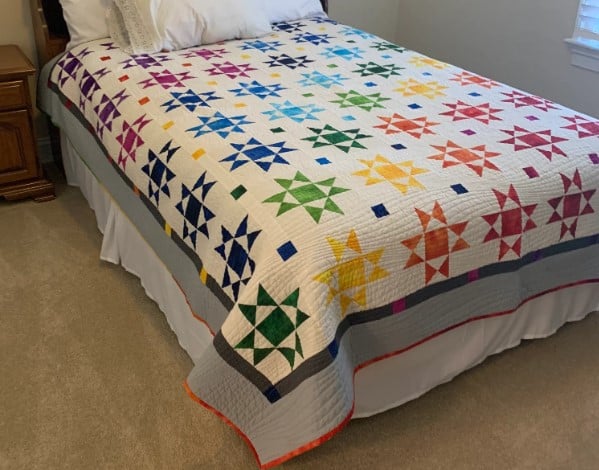 Let your bedroom twinkle with a pop of colors with this Rainbow Star! Designed by Jodi Richards of AccidentalBliss, this beginner-friendly quilt pattern is amusing to create. It employs a repetitive star pattern with brilliant colorful hues. The finished quilt size is 85 inches x 95 ½ inches.
Ready to Ship Rainbow Quilt Patterns (Paid)
1. Ribbon Rainbow Quilt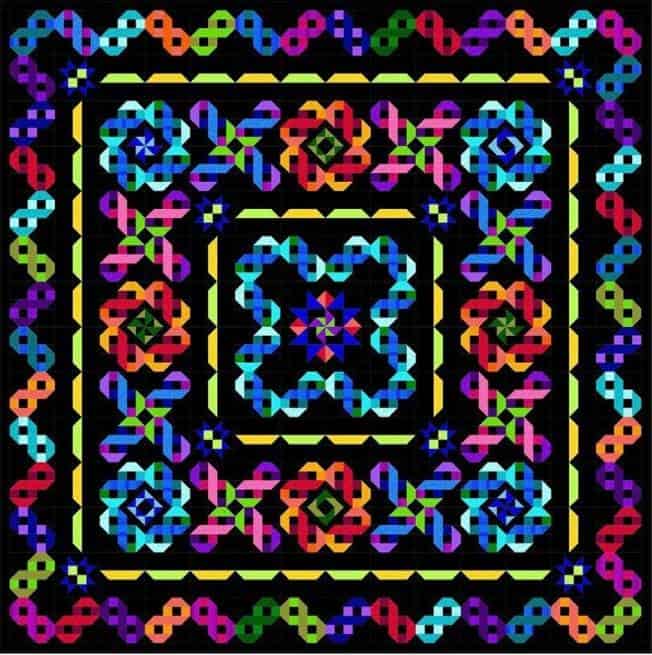 Ribbon Rainbow quilt is not your ordinary Rainbow design. This intricate and artistic design will be a captivating addition to your home improvement design! It highlights a colorful X and flower shape that stands out from the black background. This pattern from Quilt Moments is fat-quarter friendly. Experience with quilting is required to complete this pattern. The finished quilt is available in two sizes
Full/Queen: 90 inches x 90 inches
King: 108 inches x 108 inches
2. Cornerways Quilt
This fascinating pattern is designed by Wendy Sheppard. The Cornerways Quilt Pattern highlights a hologram of large stars that are integrated into rainbow hues. Conventional piecing is used to accomplish this design. The finished quilt measures 73 inches x 87 inches.
Make eye-catching quilts by combining all the colors in the rainbow! Try this Go! Rainbow Peace pillow pattern to brighten your room.