Western Quilt Patterns have long been admired for their colorful and distinct designs, reflecting the rich history of the American West. Born in a time where pioneers ventured into new territories, these patterns capture the essence of prairies, rugged landscapes, and the pioneering spirit that permeates the fabric of Western culture. A symbol of strength and resilience, Western Quilts carry a story in each stitch, which makes them appealing heirlooms, gifted from one generation to another. Immerse yourself in our curated selection of Western Quilt Patterns, and pay tribute to a timeless legacy by bringing these remarkable quilt styles to life.
Free Western Quilt Patterns – Top Picks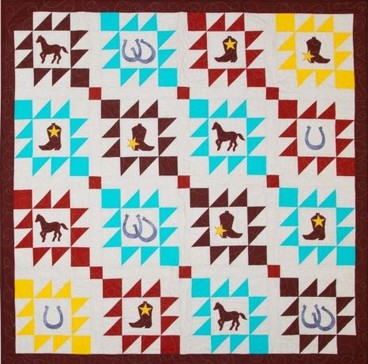 Designer: Amanda Harward for AccuQuilt
Liven up a child's space with the bright, vibrant GO! Western Dance Quilt—a free project by Amanda Harward for AccuQuilt. Showcasing Western applique motifs like horses, boots, and horseshoes nestled within Uneven Nine Patch Blossom blocks, this quilt lets you play with fabric colors to embody a lively Western spirit. This 58″x58″ quilt offers a warm embrace for snuggling with your kids or hosting picnic lunches on sunny days. Transform your quilting journey into a Western adventure with this imaginative, colorful pattern.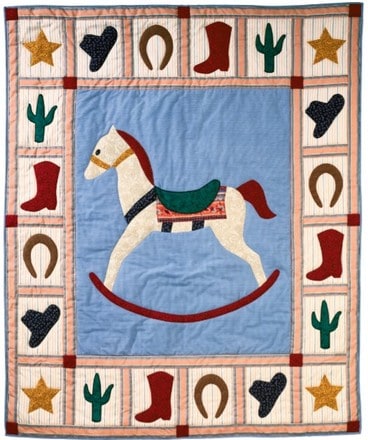 Designer: Judith Sandstrom for HowStuffWorks
Gift your little cowboy or cowgirl with the Home on the Range Quilt, a captivating free pattern by Judith Sandstrom. Providing a step-by-step tutorial, this charming western baby quilt features a horse rocker centerpiece, framed by alternating cowboy icons like stars, hats, boots, and cacti. This delightful project—measuring 44″x53″—nests in the HowStuffWorks lifestyle section. Weave an adorable tale of the Wild West for your little one with this creative, lovable pattern.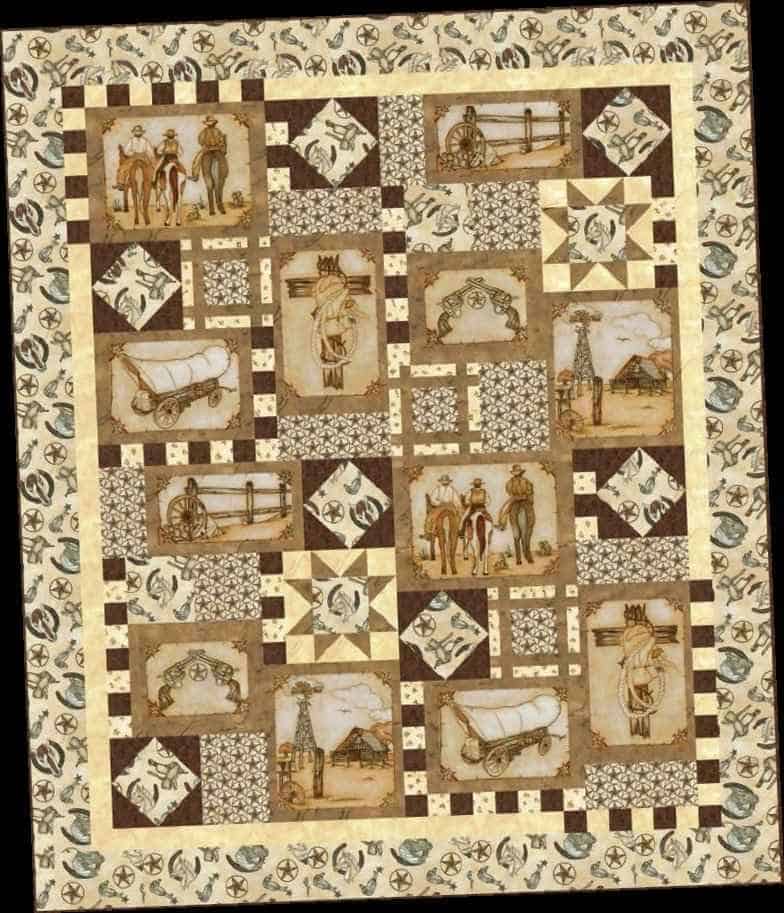 Designer: Blank Quilting
Experience the eclectic charm of the Western Album Quilt. It's a free pattern from Blank Quilting, intricately designed to showcase the Western Album fabric collection. Constructed to a finished size of 66″x78″, this quilt marries lovely fabrics with unique western design, embarking you on a creative journey that resonates with the spirit of the Wild West. Let the Western Album Quilt pattern add a rustic, yet refined, touch to your quilting collection.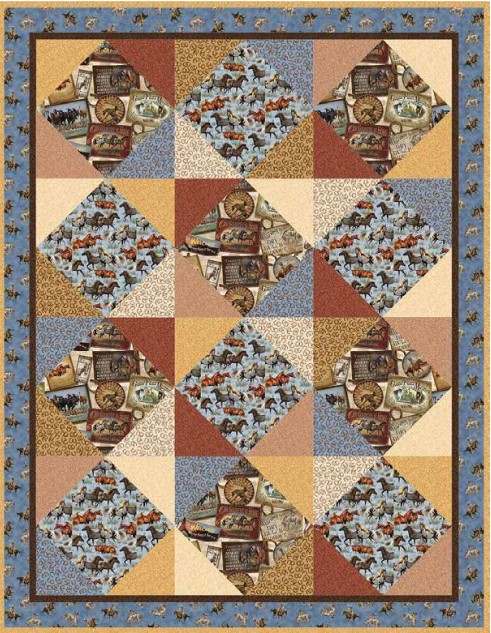 Designer: Cynthie Fisher & Michelle Grant for QT Fabrics
The Square Tilt Quilt is a captivating free pattern designed by Cynthie Fisher & Michelle Grant for QT Fabrics, offering a fresh take on classic geometry. Measuring 61″ x 78″, this quilt captures the imagination with its unique tilted square designs, creating a dynamic, modern aesthetic. Ideal for those who enjoy experimenting with shapes and angles, this pattern invites quilters to play with color and contrast, resulting in a visually striking piece. Whether for home decor or as a thoughtful gift, the Square Tilt Quilt adds a contemporary flair to traditional quilting.
Designer: Kairle Oaks
The Saguaro Quilt, a captivating free pattern by Kairle Oaks, is a splendid project for those looking to reduce their green fabric scraps. Featuring distinctive Saguaro cactus blocks, each measuring an unfinished size of 12.5″ x 20.5″, this quilt captures the essence of the desert. The assembly process is clearly illustrated in a diagram provided in the tutorial, guiding you through the creation of this unique and eye-catching design. It's an excellent choice for quilters seeking to bring a touch of nature-inspired charm to their work.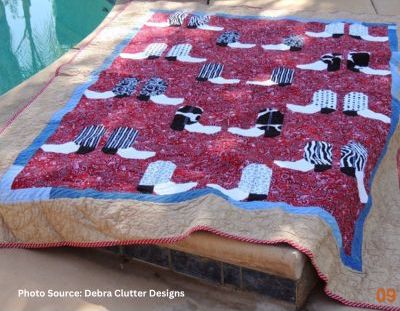 Designer: Debra Clutter Designs
Discover the rustic charm of the Cowboy Boot Quilt, a free pattern graciously provided by Debra Clutter Designs. This tutorial features a detailed cowboy boot quilt block, complete with measurement instructions. Assemble multiple vibrant blocks to create a stunning quilt embodying the spirit of the Wild West. Ideal for cowboy enthusiasts and quilt lovers alike, this beautiful quilt measures approximately 60″ by 78″, making it perfect for a cozy throw or bedspread. Delight in creating a distinctive masterpiece that's both heartwarming and full of character.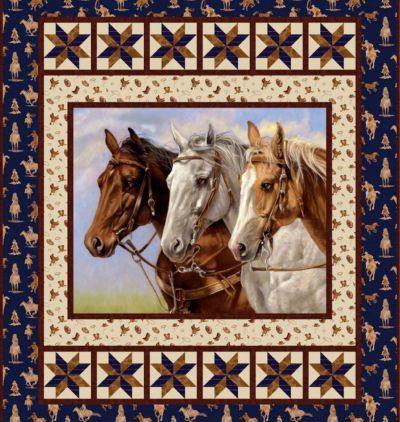 Designer: RBD Designers
Three of a Kind, a captivating free quilt pattern by RBD Designers, features a majestic panel fabric centerpiece showcasing three horses. This enchanting quilt, measuring 67″ × 78″ when finished, is further adorned with beautifully crafted eight-point star blocks positioned above and below the central panel. The pattern includes a clear Quilt Layout Diagram, guiding quilters through the process of arranging these elements to create a harmonious and visually striking design. Ideal for horse lovers and those drawn to nature-themed quilts, this pattern is a delightful project that captures the essence of equine grace.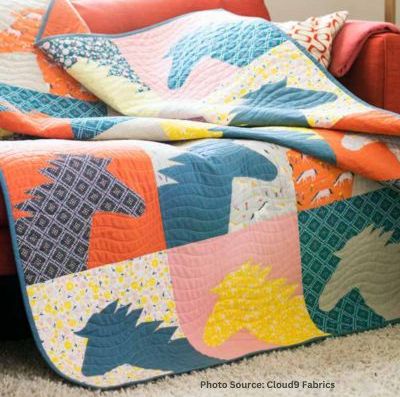 Designer: Michelle Engel Bencsko of Cloud9 Fabrics
The Holding Horses quilt pattern by Michelle Engel Bencsko of Cloud9 Fabrics is a tribute to the timeless beauty and elegance of horses. This free quilt pattern, finishing at 56 inches x 70 inches, showcases 20 appliqué horses, each facing different directions, adding a dynamic and personalized touch to the design. Ideal as a cozy throw for your home, this quilt captures the majestic allure of horses with their striking eyes and graceful presence. It's a perfect gift for horse enthusiasts or a charming addition to any western-themed decor. This pattern allows you to decide the orientation of the horses, making each quilt uniquely yours.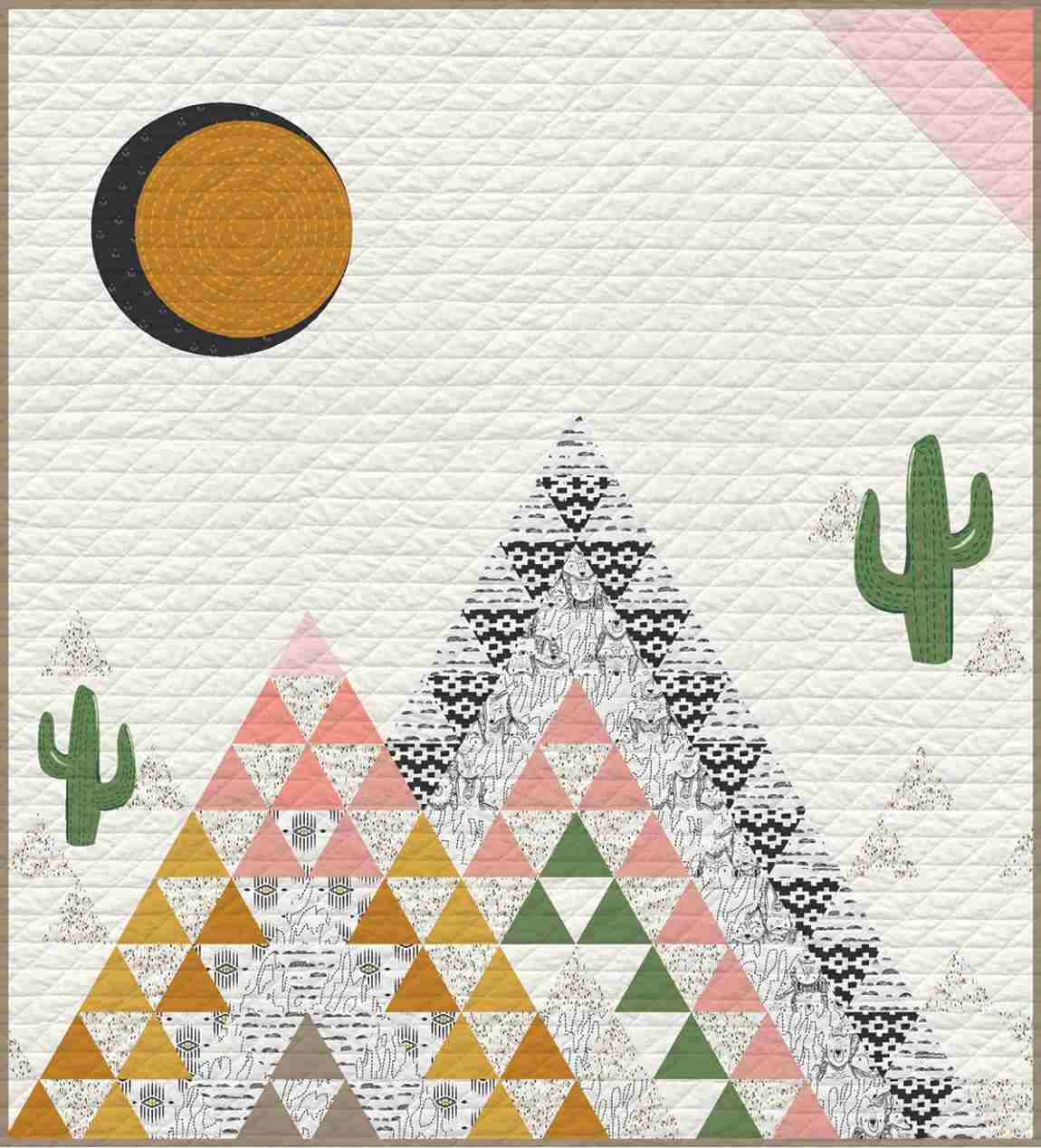 Designer: AGF Studio
Explore the allure of the Little Mountains quilt pattern, a captivating and free design by AGF Studio, showcasing the Pacha Capsule fabric collection. This quilt, sized at 53″ × 59″, is an ideal choice for young adventurers, evoking the essence of the Wild West. The design features a desert-themed landscape complete with cacti, mountains, and a radiant sun, making it a lively addition to any child's room. The combination of vivid colors and playful imagery in the Little Mountains quilt not only provides warmth and comfort but also stirs the imagination, bringing a sense of adventure to every bedtime. This charming quilt is a delightful way to infuse a room with the spirit of exploration and fun.
BONUS Western Patterns For Sale from Online Shops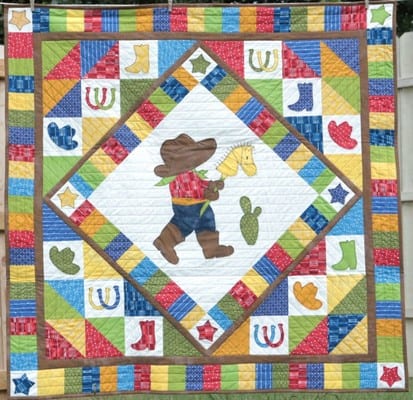 Designer: Amanda Brown of Nursery Magic Quilts
The Cowboy Adventures Quilt Pattern by Amanda Brown of Nursery Magic Quilts presents a charming design, featuring a cute cowboy with a stick. This 45×45-inch quilt is an ideal gift for baby showers, capturing the essence of adventure and whimsy. It's a delightful choice for moms-to-be looking to add a unique and adorable centerpiece to their baby's nursery. The playful and engaging design of this quilt pattern makes it a standout piece, sure to bring smiles and a sense of joy to any infant's bedroom.
Designer: Jackie Moravcik Arrigo
Presenting the Western Style Patchwork Quilt Pattern by Jackie Moravcik Arrigo — a must-have addition to your quilt repertoire. This beginner-friendly quilt offers two layout pattern options, allowing you to customize your design. Discover Jackie's simplified approach to crafting the traditional Delectable Mountains block within this tutorial. The finished quilt offers two size options — a generous 55″x80″ or a slightly smaller, yet still substantial, 66″x75″. Evoke the spirit of the West through each stitch with this approachable, stunning pattern.
Designer: Lisa Muilenburg of Counted Quilts
The Desert Cactus Quilt Pattern by Lisa Muilenburg of Counted Quilts brings a slice of the desert into your home. This pattern paints a charming desert scene with a cactus under a blazing sun, a cowboy hat perched atop, a lasso hanging from its arm, and a cow skull nestled nearby, evoking a true Wild West vibe. Available in three sizes – 36×42, 24×28, and 48×56 inches – it's versatile for various projects. This pattern is perfect for creating a thematic quilt that captures the essence of desert life and cowboy culture.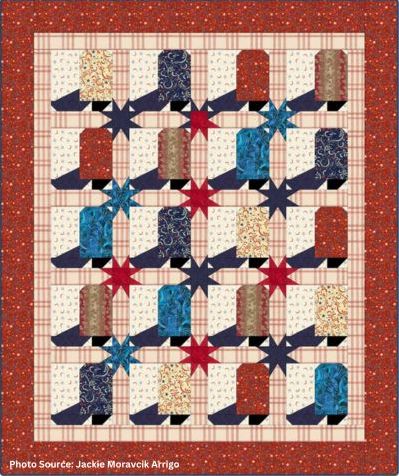 Designer: Jackie Moravcik Arrigo
Discover the uniquely patriotic flair of the These Boots Don't Run quilt pattern by Jackie Moravcik Arrigo. This 58″x70″ quilt marries western aesthetics with a patriotic spirit, embodied in the cowboy boot design. With detailed directions, including step-by-step diagrams, this pattern guides you through simple piecing and connector corners method. The result is a captivating 'patriotic meets western' style quilt, exuding a sense of pride and the charm of the West in every stitch. A truly distinctive addition to your quilting journey.
It's clear that these unique patterns showcase the rich heritage of the American West. Capturing the essence of the land and its pioneer spirit, these vibrant quilts are cherished heirlooms that convey warmth, resilience, and character. May they inspire you to create your own Western quilt masterpiece, infused with your personal touch and your own slice of Wild West history. Happy quilting!