We have gathered different tutorial versions of the Western Quilt Pattern for you to create.
1. GO! Western Dance Quilt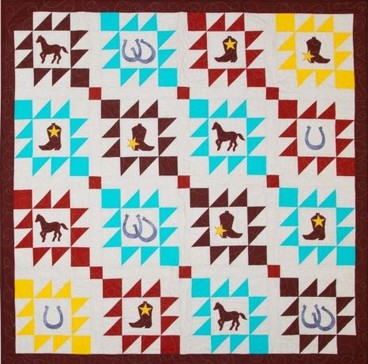 A playful quilt to work with over the weekend. The GO! Western Dance Quilt is a free quilt pattern from AccuQuilt designed by Amanda Harward from Larkspur Quilts. Bring out those boots kicking rodeos in you with this cheerful quilt.
Project Finished Size: 58 inches x 58 inches
Know more about GO! Western Dance Quilt pattern here.
2. Home on the Range Quilt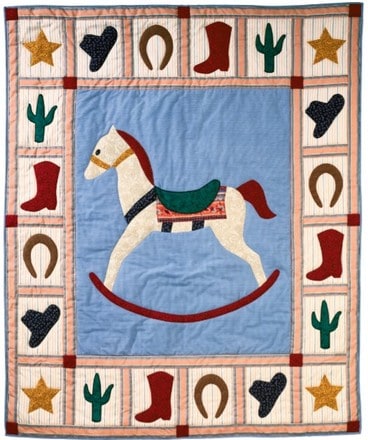 An adorable western baby quilt for your little cowboy or cowgirl. Here is a step-by-step tutorial on how to make the Home on the Range Quilt. This is a free quilt pattern from the HowStuffWorks lifestyle section by Judith Sandstrom.
Project Finished Size: 44 inches x 53 inches
3. Cowboy Quilt
Show off your love for the western quilts with loan star, cowboy hat, boots, and cactus. This is a fun applique Cowboy Quilt pattern that will be loved by your little ones. Choose a light fabric for your background and dark fabrics for your blocks to make the quilt stand out.
Project Finished Size: 55.5 inches x 67 inches
4. Cowboy Adventures Quilt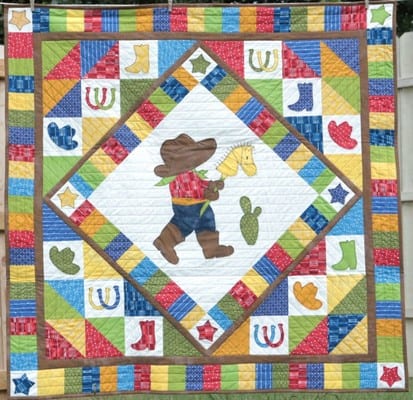 A cute cowboy holding a stick will surely be an adorable baby show gift. Every Mom to be would be thrilled to make the Cowboy Adventures Quilt the centerpiece to her baby's bedroom. Designed by Amanda Brown of Nursery Magic Quilts.
Project Finished Size: 45 inches x 45 inches
5. Western Style Patchwork Quilt
A stunning quilt to add to your quilt collection. The Western Style Patchwork Quilt is designed by Jackie Moravcik Arrigo. It is a beginner-friendly quilt with two layout pattern options. Jackie also shares a super easy method of creating the traditional Delectable Mountains block on this quilt tutorial.
Project Finished Size:
55 inches X 80 inches
66 inches X 75 inches
If you are looking for more Quilting inspiration then check out our full list of 500+ Free Quilt Patterns for beginners, intermediate and advanced Quilters. There are all kinds of quilt patterns from easy beginner quilt patterns up to advanced appliqué patterns and patchwork patterns.