As with so many other people, if you are still doing edges and hems with a conventional sewing machine, you will be very satisfied with the Brother 1034D serger machine. It doesn't only finish off the hems and hems, but it can do much more for you. This serger machine is one of the top brands of Brother company.
On this page, we will take the Brother 1034D serger review to see what's inside of this machine. Read our complete review to see if this serger sewing machine is still the best serger machine or not?
Also Read About: Brother Serger 1034D vs 1634D
Brother 1034D Serger Machine Features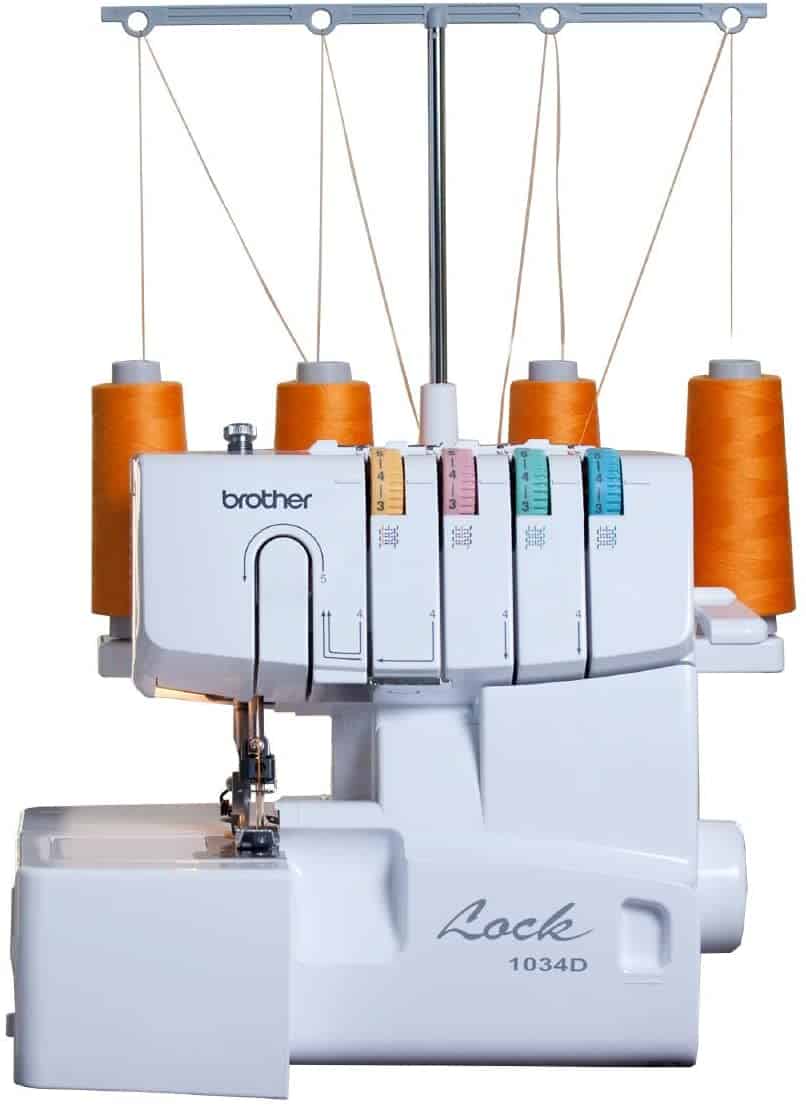 You'll be very pleased to listen that the features brother 1034D serger machine is loaded with multiple features. This serger machine is designed for finishing the hems and edges of a wide range of stuff. This overlock machine is the best addition to any sewing room. Brother 1034D serger machine will not disappoint you, Whether you are a beginner or a professional sewer.
Structure and Design
Let's first take a look at the structure of Brother 1034D serger. This serger machine is made with a high-quality metal frame. Thus, you can say that this machine is a durable serger. This heavy-duty metal frame makes it still during the serging process for smooth operation. Unlike some other cheap models, the Internal components of the machine are also made with quality plastic material.
You don't need a large space for the Brother 1034D serger machine because the Brother 1034D serger machine's dimensions are 10.98 x 11.73 x 13.19 inches. The weight is almost 8 pounds. With these dimensions and weight, this machine becomes a portable serger. You cannot only move this machine in your home but also take it away with yourself during traveling.
Sewing Speed
Brother 1034D serger machines are one of the fast sergers because it operates at 1300 stitches per minute. This fast sewing speed is enough for a sewist to complete different projects quickly.
Built-in stitches
Brother made this serger machine quite versatile. It comes with over 20 built-in stitches. You have the options to select from 4 thread overlock, 3 thread overlock, rolled hem, ribbon lock stitches, and narrow hem. It means you can perform a different kind of household serging tasks with the brother 1034D overlock machine.
Color-coded threading
Threading the serger is no more difficult in this machine. Thanks to its easy color-coded lay-in threading system, you can easily thread the Brother 1034D. Besides this, the lower looper threading system makes sure that the thread remains in the right place.
Adjustable Stitch Width
It becomes necessary for a good machine to have the option to adjust the width of the stitch. In this Brother, 1034D serger has adjustable stitch width. You can adjust the width of the stitch between 5mm to 7 mm from the left needle. This option is really helpful in providing the best width for your complex projects.
Adjustable Differential feed
When you work on thin fabrics, they may pucker.  Differential fabric feed is used to overcome this problem. Brother 1034D serger comes with an adjustable fabric feed to ensure quality stitching on almost every kind of fabric. It becomes an essential feature when you've to work on stretchy, fine, or knitted fabrics. The differential feed ratio is 0.7 to 2.0.
Removable stitch finger
The removable stitch finger is another little but handy feature in this overlock machine. It helps consistently well-formed stitches along fabric edges.
Adjustable thread tension
Be happy; you can easily control the thread tension with Brother serger. It has a 2 point thread tension control system. Each needle tension can be adjusted individually. It's a handy feature for better and quality stitching.
Bright workspace
There is a bright light available at the needle area. It helps a lot when you sew the dark fabrics or sewing in the night times. You can perform your sewing task without eyestrain.
Also Read About:
Adjustable presser feet pressure
The pressure of the foot is also adjustable. You can perform high-quality stitching and serging tasks on both heavy and fine fabrics. Only you have to lose or tight the pressure while dealing with lightweight or heavy fabrics accordingly.
Removable Free Arm
Sewing cuffs and sleeves aren't easy jobs without a free arm feature. Brother 1034 comes with a removable free arm feature to deal with this kind of stuff.
Storage compartment
The Brother 1034D serger machine has a built-in storage space. In this compartment, you can store little accessories. It provides you a clean and well-organized serging area.
Standard needle usage
Unlike some other serger, there is no need to purchase special needles for this serger machine. You can use standard needles to start your serging work.
Brother 1034d serger instructional video
Accessories
Foot controller
2 accessory feet, including multi-purpose foot and gathering foot.
Accessory bag with tweezers, cleaning brush, 4 spool nets, hex wrench, trim trap
Soft Cover
Instructional CD
English, Bilingual and Spanish Manual
25 year limited warranty
Brother 1034d serger manual
To download the complete user manual of Brother 1034D Click here:
Common FAQ'S of Brother 1034D Serger Machine
Can the Brother 1034D serger machine replace a sewing machine?
Even though many sewing projects can be done on the Brother 1034D serger machine, but a serger machine can't replace a regular sewing machine. Some of the projects need a regular sewing machine. For example, facings, topstitching, buttonholes, and zippers projects cant be completed with this serger. Only a regular sewing machine is capable of these types of tasks.
How can I adjust the presser foot pressure of the Brother 1034D serger machine?
To adjust the pressure of the Brother 1034D serger's presser foot, you need to use the pressure adjustment knob located on the top of the machine. Turn the knob to the right the tightens the pressure. Turn the knob to the left to loosen the pressure.
You should make a Mark on both the knob and the top of the serge before adjusting the pressure because only a slight turn of the knob can make a notable adjustment.
How often should the Brother 1034 Serger machine be cleaned?
It is recommended that You should clean the Brother 1034D serger after finishing each project. But If your project is large, then you may need to clean the machine many times throughout the project. Clean all the thread guides, knives, and feed dogs. Use the vacuum cleaner or hair dryer to remove the waste easily.
If the serger isn't properly regularly, it could lead to too much noise, improper feeding, and inconsistent stitching.
Bottom Line
The Brother 1034D serger machine has great features that are more suitable for beginners. Professionals can also benefit from this machine. It could easily be the number one choice for people who are new in the serging field.
Brother 1034D Serger Machine has some disadvantages as well; it is still a smart investment if you are serious in need of a brilliant serger sewing machine.