A serger is a sewing machine that sews seams in one go. It's the best choice for beginners because it eliminates frustration and saves time. Sergers are designed to cut, stitch, press, and finish fabric with just one pass of the needle. This article will help you find the best serger sewing machine for beginners available on the market in 2023.
Here we try to make the situation more comfortable for you; while you are a beginner & hassling to find the best serger sewing machine for beginners and having difficulty picking one, you can use our help.
While you are unable to find the best-rated serger sewing machine, our list will help you out. We have a list of top-rated brands like brother, JUKI, Singer, and other best brands. At the end of the article, some Expert Tips are also described, which will help you a lot. So, keep reading.
Also Read About: Brother Serger 1034D vs 1634D
Top 6 Best Serger Sewing Machines for Beginners in 2023
1- Brother 1034D  –

Best Serger for Beginners
The Brother 1034D, a serger sewing machine, is a long-lasting unit because of its build with a high-quality metal frame. Not only its building material is durable, but it is a lightweight machine. It weighs only 8 pounds. You can quickly move it anywhere without any ties.
In addition to this, it's easy enough that the beginners can learn it in no time that's why we put this machine on the top of the best serger for beginners.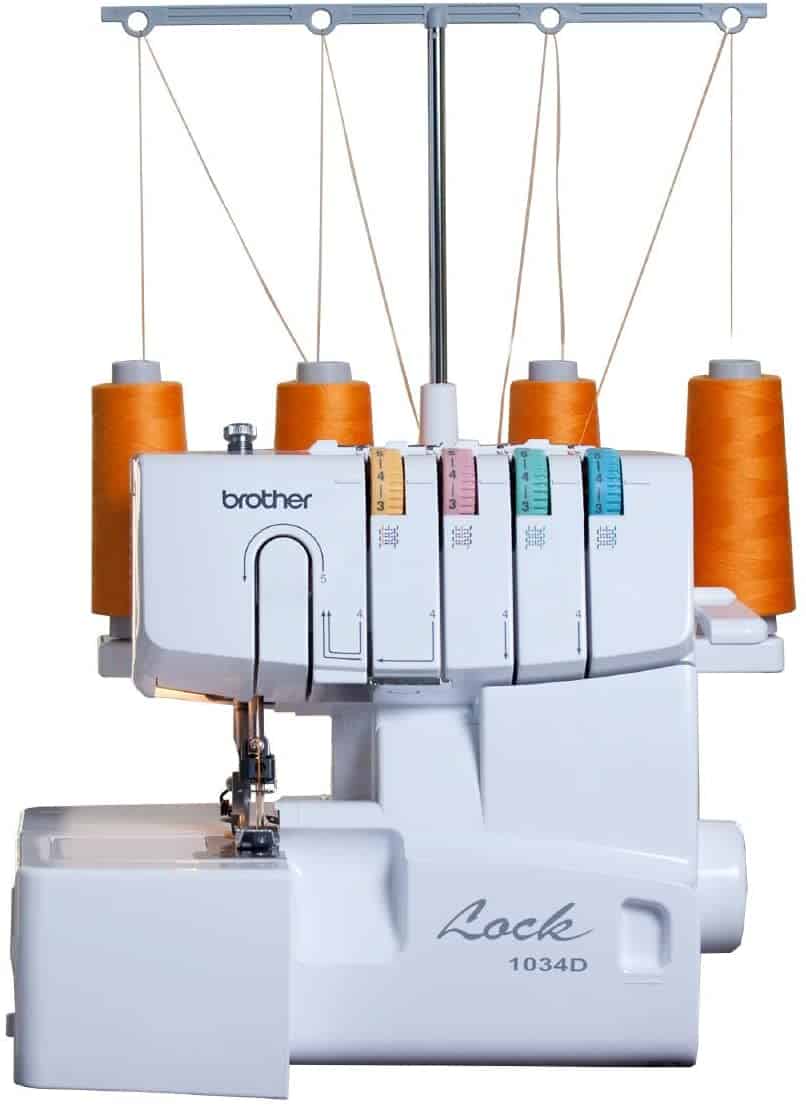 Brother 1034D Serger Quick Review
This 3/4 serger delivers an impressive range of features often found on much more expensive models. First, the 1034D is very easy to thread. It comes with a 22 stitch function.
The machine has easy-to-follow layin threading and a powerful tension disc release, ensuring accurate thread placement. You can use a 1034 d serger on virtually all types of fabric weights, including silk and denim.
The tension discs and the fast lower looper threading system couldn't be easier. It is color-coded and designed to make sure the thread stays right in place. Customers who have the 1034D serger sewing machine rave about the differential feed improved results when sewing stretchy knitted or thin fabrics.
Unlike some sergers, the 1034D has a removable free arm, which is a big help when you're surging cylindrical items like pant legs as well as a retractable knife, which helps prevent accidentally cutting your fabric when working close to the edges of rolled hems.
The 1034D serger sewing machine also comes with a full range of accessories, including snap-on presser feet, accessory bag, softcover, instructional DVD, and so on.
 Features We Love
Easy to use the serger sewing machine even for beginners.
Featured with differential fabric feed that provides the best stitch quality on almost every fabric.
Color-coded threading feature.
It comes with everything you need to get started.
There is no need to purchase special needles for this brother's 1034D serger.
Features Need to Improve
Instructional video made in low resolution.
A bulb is installed instead of an LED light.
Product Information
| | |
| --- | --- |
| Model | 1034D |
| Manufacturer | Brother |
| Size | 10.98×11.73×13.19 Inches |
| Weight | 8.02 ponds |
| Stitching speed | 1300 stitches per minute |
| Warranty | 25 years limited |
Juki MO654DE holds the 2nd position in the category of best serger sewing machine for beginners. When it comes to the high-quality serger sewing machine, Juki is a serious contender in this category.
JUKI MO654DE portable serger sewing machine is a product that is known as a special version of the serger machine manufactured by the Juki.
JUKI MO654DE Serger Quick Review
If you want a small but powerful serger machine, then this product is the best fit. You can strengthen your world of sewing with the Juki MO654DE serger. It is one of the best overlock machines available in the market.
Juki MO654DE serger sewing machine is featured with a 2-3-4 thread capability rolled hemstitching. You can also adjust the stitch length according to your desires. Its adjustable differential feed allows you to handle any fabric easily. It also prevents the delicate fabric from being pulled out of shape.
The professionals' main thing is that the sewing speed of this product is 1500, which allows the pros to complete their projects quickly. Its built-in tape guide is a perfect tool for stretch fabrics, and it prevents them from losing their shape in the stitching process.
The color code threading guide is a nice feature in the Juki MO-654DE serger, and it marked thread paths. Tensioning of the thread is one of the difficult tasks to carry out, but it is easy in Juki serger. Special dials for this procedure is present are this product. It is featured with a flexible knife that provides a comfortable and safe position of work with maintenance.
In short, despite the lack of a free arm feature, the Juki MO-654DE serger sewing machine is well-featured. It is a small and powerful tool that can handle function and versatility as needed for home serging projects. In our opinion, the Juki MO-654DE serger machine can fulfill most of the serging needs.
 Features We Love
Juki MO-654DE is a Nice combination of size and features.
It is featured with a Safety switch that disables the machine while the cover is opened for threading.
It has the ability to fast sewing speed with quality stitching.
Sturdy and robust construction.
Features Need to Improve
Setting up this serger is a bit tricky.
Some complaints of threading problem.
Product Information
| | |
| --- | --- |
| Model | MO-654DE |
| Manufacturer | Juki America, Inc |
| Size | 10.6 x 13.6 x 11.6 Inches |
| Weight | 15.18 ponds |
| Stitching speed | 1500 stitches per minute |
| Warranty | 05 years limited |
The Singer pro-finish 14CG754 is an astonishingly powerful overlock sewing machine. It's an affordable yet efficient serger, and you won't have trouble sewing all types of fabrics with this singer pro 14CG754 serger machine. It sews seams, seam finishes, and cuts extra seam allowances in one step with professional results.
Singer 14CG754 Serger Quick Review
The singer 14CG754 serger comes with a 2-3-4 thread capability with a lineup of stitch options. These stitches provide versatility with all types of designs and fabrics. This serger machine can sew at the highest sewing speed of 1300 SPM. It means you can complete your projects very fast.
This​ 14CG754 serger comes with 6 built-in stitches. These stitches include three thread mocking, stretch safety, stitch flatlock, two overlocking thread stitches, three thread overlock stitches, and rolled Hem-stitch.
The threading system is color-coded in the singer 14CG754 serger sewing machine. You just have to place the thread according to the color indications, and it will work efficiently. It offers a high presser foot lift, which is comparatively higher than many other models.
In fact, the presser foot's primary function is to press the fabric down in an exact place during the stitching. You just need to lift the presser foot and insert the fabric and press it down, and it will hold the material in its place. You can adjust the presser foot according to the fabric type.
In conclusion, we believe that the singer pro finish 14CG754 is one of the best serger sewing machines for beginners on our today's list. It is the right choice, especially for those people who have never used a serger machine before. It has all the essential features to please you. If we look at its low price tag, it is a "must grab" type of product.
 Features We Love
It comes with low maintenance costs with high durability.
Color-coded threading is very convenient.
High stitching speed with decent stitch quality.
Availability of Free Arm.
Features Need to Improve
It is noisier than other models.
Only 90 days warranty of parts and labor.
Product Information
| | |
| --- | --- |
| Model | 14CG754 |
| Manufacturer | Singer |
| Size | 14 x 11 x 11.5 Inches |
| Weight | 13.5 ponds |
| Stitching speed | 1300 stitches per minute |
| Warranty | 25 years limited |
For over 70 years, brother has been in the business of sewing machines, which is why they are one of the highest-rated brands. The owner's satisfaction is one of their best features.
Brother DZ1234 serger sewing machine is yet another fantastic serger of Brother. It's a designio series serger, which is a popular series of brothers. It is comparatively easy and one of the best sergers for beginners.
Brother DZ1234 Serger Quick Review
Brother DZ1234 serger comes with 23 built-in sewing stitches. It also includes 3 and 4 thread overlock stitches, rolled hemstitches, 3 ribbon lock stitches, and narrow stitches. The length and width of these stitches are adjustable. You can adjust the length between 2 mm to 4 mm, and also you can adjust the width between 3 mm to 7 mm.
Furthermore, it comes with 3 interchangeable presser feet. It allows you to lift these presser feet to a height of 6 mm. this extra height helps you work on thicker or multiple layers of fabrics.
This brother's serger sewing machine offers an adjustable differential feed. This feature makes it easier to sew on thick or fine fabrics. Differential feed also stops fabrics from stretching or breaking in knit fabrics.
Threading this serger is less complicated as compared to other sergers. It has a color-coded threading system to make the threading breeze. Thanks to its Free arm feature, it can sew sleeves, cuffs, and other narrow kinds of stuff.
Buying a serger sewing machine is a very personal choice. It so much depends on what you want to use it for, what features make sense to you, and your budget. For the price that this model offers, you won't find any other serger with such high-quality functions.
If you are a beginner and want a compact, yet powerful serger, then the brother dz1234  serger sewing machine is exactly the kind of serger you need.
 Feature We Love
Compact serger machine with handy storage space.
It is featured with Color-coded Convenience.
No special needle is required for this brother's serger.
Smooth and Quiet operation with high-quality stitch.
Features Need to Improve
Supports only 120 V AC supply.
Manual threading is complicated for beginners.
Product Information
| | |
| --- | --- |
| Model | DZ1234 |
| Manufacturer | Brother |
| Size | 15.2 x 13 x 13.2 Inches |
| Weight | 28.1 Ponds |
| Stitching speed | 1300 stitches per minute |
| Warranty | 25 years limited |
Singer Profession 14T968dc is undoubtedly one of the best overlock machines. This top-notch quality is considered a professional machine because it can handle experts level tasks. It offers 12 inbuilt stitch options with a 2-3-4 and 5 thread overlock.
Singer 14T968DC Serger Quick Review
14T968DC serger sewing machine includes 3 cover stitches, 4 rolled hem-stitches, 2 thread overedge stitches, 4, and 5 thread safety stitches with triple cover hem-stitches. It can also produce a unique double chain stitch.
Furthermore, to keep seams strong and avoid fabric bunching, singer 14T968DC can easily adjust stitch length and width. When you select your favorite stitch, this serger sewing machine will automatically adjust the tensions.
This automatic tension system is one of the beneficial features available in this model. It has coverstitch feature, which makes this serger special among overlock machines. You have the option to choose between a narrow, wide, or Tripple coverstitch while working on your projects.
Working on delicate fabrics is difficult, but with this serger, this isn't so difficult. Thanks to its adjustable differential feed, you can work smoothly on stretchy and fine fabrics. Adjustable differential feed controls the movement between the front and back feed dogs, helping the smooth fabric feed under the needles.
The singer serger pro is a real versatile machine that can handle professional projects, as well as home sewing tasks. Like all other sewing machines, it is also not flawless as its parts are made of plastic. It is also an expensive overlock machine. But its price is justified when we look at its built-in features, changeable presser feet, and accessories.
Are you looking for a reasonably priced serger machine with high quality and standard features? Place the singer Singer Profession 14T968dc at the top of your list.
 Feature We Love
Coverstitch capability makes it 2 in 1 serger sewing machine.
Built with an Automatic Tension Control.
High stitching speed with decent stitch quality.
It is built with a heavy metal frame that makes it a vibration-free machine.
Features Need to Improve
Pricey product.
Some parts are made of plastic.
Product Information
| | |
| --- | --- |
| Model | 14T968DC |
| Manufacturer | Singer |
| Size | 11 x 1.5 x 14 Inches |
| Weight | 20 ponds |
| Stitching speed | 1300 stitches per minute |
| Warranty | 25 years limited |
If you are looking out for a serger sewing machine that works fine, gives quality results, and at the same time doesn't even make a big hole in your pocket, then you should turn your head towards Juki MO-1000 serger. It is not only a high-quality machine but also very popular with the crowd of expert sewers.
Juki MO 1000 Serger Quick Review
The Juki MO-1000 serger comes with seven different stitch options, including 2-3 and 4 thread locks. These include a 3 thread flatlock stitch, 3 thread rolled hemstitch, and a 3 thread lettuce-edge rolled hemstitch.
These are enough to add style and interest to garments. You can choose any stitch without any hesitation because every stitch is secure and tight.
Besides you can adjust the stitch lengths and widths according to your needs. Adjustable differential feed makes sure the perfect stitching on almost every kind of fabric.
You can adjust it at a 0.7mm to 2 mm ratio. Both stitch length and differential feed control are located on the right side of this overlock machine. You can conveniently make changes without stopping work.
The best part of the Juki MO-1000 serger is that it offers a jet air looper threading. Threading the serger is super easy in this machine. It consists of two holes for easy threading.
The jet-air function pushes the lower looper threads into place instantly. Upper loopers threading is really easy too. You just have to follow the color-coded guide. It's built-in long knife blade cuts in thick or layers of fabric and cuts any fabric you feed into it.
Overall, Juki MO 1000 is a high-performing serger when compared with other sergers in its price tag. It is a sturdy workhorse, user-friendly, and feature-loaded serger machine.
 Feature We Love
Jet Air Looper threading.
The ease of use on the Juki MO-100 is perfect for beginners professionals.
Quiet operation.
Low price serger as compared to other competitive sergers.
Features Need to Improve
Doesn't have a cover stitch.
Unclear instructional manual.
Product Information
| | |
| --- | --- |
| Model | MO-1000 |
| Manufacturer | Juki America, Inc |
| Size | 15.4 x 15.2 x 16.3 Inches |
| Weight | 22 Ponds |
| Stitching speed | 1500 stitches per minute |
| Warranty | 05 years limited |
Buying guide of Best Serger for beginners in 2023
Above is the complete list of the best serger sewing machines in 2023 that are the most outsell in the market. It doesn't matter which one you choose; every serger machine will provide you with a long-quality sewing experience. If you are still uncertain of why you should have a serger machine, you should need to complete our complete buying guide.
Before making a decision, read this buying guide carefully to choose the best serger sewing machine for beginners in 2023. You'll see you have done everything essential to avoid any mistake. Here are the essential features to be considered when buying the best serger sewing machine
Ease of use
When we talk about ease of use, serger or overlock machines are not easy to operate. It would help if you had proper guidance and working experience to become a professional. Some beginner's friendly models are also available for serging like JUKI MO644D.
Alteration during the sewing is another drawback of the serger sewing machine; you cannot easily alter the fabric during sewing like other regular sewing machines. But the overall quality of work, stitching strength, and super fast speed make it a choice of every sewist.
Number of threads
Serger machines are equipped with multi-threads. The number of threads may differ from product to product. Some basic models come with 2 thread options, and you can get a standard stitch with these machines.
While the best overlock machine used 3 or 4 threads to provide a more quality stitch, a four-thread stitch is also called a "mock safety stitch" ideal for stretchy fabrics. Now it's your choice what kind of serger is compatible according to your needs.
Automatic threading
When we look at the best serger for beginners color-coded threading, it is crucial to understand. In a serger machine, 3 or 4 threads use at once. That's why its threading system is complicated to understand.
Threading guidance is essential when you want to choose a serger. Mostly serger sewing machines provided color-coded thread guidance. So it's an expert tip to take a picture of this color-coded guidance when you unpack the serger.
Differential feed adjustment
The differential feed of the serger varies from fabric to fabric, and its adjustment is a tricky task. You need to adjust the differential feed when you want to serging heavy, too light, or silky fabrics.
Previously this is a challenging and time-gaining task, but now in the latest serger sewing machines, differential feed adjustment is easy to adjust according to the fabric.
Speed
The speed of serger sewing machines is high compared to regular sewing machines due to their commercial usage. Midrange serger machines are available in the speed range of 1000 to 1500 stitches per minute.
Mostly serger sewing machines are used in the garments industry to stitch stretchy fabrics. But when you run a serger at high speed, it isn't easy to control.
You need proper training and some experience to run a serger machine at high speed. If you are a beginner, then go with the Brother 1034D serger machine.
Portability
Weight is another essential factor to be considered when buying the best serger machine for beginners. When we use a serger commercially, we don't need to move from one place to another. While when we use an overlock sewing machine on a domestic level, we need portability.
Heavyweight serger machines are more durable than lightweight because, in heavyweight machines, most parts are metallic. If you are looking for a portable serger sewing machine then you should grab Singer ProFinish 14CG754 Serger
Warranty
Brand warranty is the essential thing to be checked before buying any product. And when we discuss serger sewing machines, it becomes more valuable because serger machines are a long-time investment. That's why a Brand Warranty is an important factor before purchasing the best serger machine for beginners.
Most trusted brands provide you with 25 years limited warranty but keep in mind that this is not a full serger machine warranty. Twenty-five years warranty for only frame chassis; if the frame or main body is damaged or cracked during operation, it would be replaceable. At the same time, electric components and other parts have only a 1-year warranty.
Experts tips for beginners on how to use a serger 
As serger sewing machine isn't easy to use, especially when you are a beginner. That's why we will provide you with some expert tips about using a serger/overlock machine. You'll quickly learn these machines after following these tips.
Take a picture
When you buy a new serger sewing machine, put it on the table, open its front door, and take a picture with your cell phone. Because mostly new serger sewing machines have threaded with different color threads, each spool thread has a specific pathway, and it's tricky for beginners.
So when you take a picture, you'll have a visual reference to understand each spool thread's path. This little step will help you to thread your serger easily.
Tension adjustment
For different fabric types, you need to change the tension adjustment. If you are a beginner, it may be challenging to overcome. But don't worry, we have a solution for you.
Keep your machine threaded with different color threads and switch on your serger. Now put a piece of fabric and start sewing. As you begin sewing, different cloth types slowly adjust the right tension dial and capture the accurate dial position for each fabric type.
Save or print the image of the dial position for each fabric type. So when you sew different kinds of fabric on your serger sewing machine, you have no thread tension problem. You can easily adjust the thread tension within seconds.
Choose the right thread
On regular sewing machines, we used simple thread spools. But on serger spools are not recommended here we use cones and it has two reasons.
Spools have a limited thread that finished rapidly and threading a new spool is a time-gaining task.
The quality of the spool thread is not very good, but you need a quality thread to improve stitching quality and serger life on a serger.
Cheap thread and the serger is a terrible idea. Don't use cheap yarn, and don't use spools. Go ahead and buy cones; you can get them cheap or at least inexpensively on Amazon.
Don't pin your fabric
You used pins to join fabric together and then run it under the needle on a regular sewing machine. But on a serger, stop doing this! A serger is not a sewing machine; it has a blade that cuts the excess fabrics. But if you use pins, your fabric pulls them off before serge. Otherwise, it may be damaged your blades or injure you.
How to clean your serger?
For serger machine cleaning, different peoples have different opinions. Some people recommend never cleaning sergers internally; some use air blowers, while most people like me use a vacuum cleaner. As we know, the serger sewing machine has a powerful blade that cuts off the extra fabric and spreads the lint all around the machine parts.
Here we recommend opening your serger's door and slightly cleaning the lint and dust with a brush and then using a vacuum cleaner to suck microparticles. Now you need to oil the machine, and your serger is ready for reuse.
Common FAQ'S about serger sewing machine
Can you quilt with a serger?
Yes! A serger is different from a regular sewing machine. It would help if you had some practice to quilt, but a serger is a fantastic machine for piecing a quilt. It would help if you replaced the presser foot, and then you can enjoy the super-fast speed of the serger for quilting.
Can you use a serger to sew?
Sewing is a package of different tasks. Serger machines can perform some tasks correctly, like cover stitching and streamlining.
But it would help if you had a regular sewing machine to perform some other functions like topstitching, buttonhole, zippers, and facing. That's why we can say serger is not capable of complete sewing.
Which is a better serger or sewing machine?
Both are wonderful at their end. Which is better? It depends on your need. Usually, sewing machines used a single thread and a single bobbin to sew. At the same time, serger machines used 3 to 4 lines and bobbins at once.
The stitching speed and quality of a serger are very high as compared to a regular sewing machine. The sewing machine also used a single needle to stitch the fabric while the serger has multiple needles to complete the job rapidly.
What is the difference between overlock and serger?
The working principle of a serger and overlock machine is the same, but technically their much differences. Overlock machines have fewer spools than a serger, which means overlock machines have limited stitching options.
When we talked about stitching speed and stitch width, the serger is more valuable because it has more stitches per minute. But when we see the feed, the overlock machines are better than serger machines.
Bottom Line
It would help if you had a good quality serger sewing machine to excel your skills to the best. We have discussed all the best serger sewing machines if you are a seamstress or garment, business owner. You will not only enjoy the fast stitching, but you can also use it for overlock stitching and other sewing experiences.
All the above described unique features combine to make the Best Serger Sewing Machine for Beginners that you might be looking for a serger.