A simple yet gorgeous quilt that is great for houseboats, nautical houses, or sailors. The Sail Away Quilt Block is a free printable quilt pattern designed by Glenda Wilder in collaboration with Quilt Block Mania Summer Fun block hop 2020.
This Sailboat at Sunset quilt block is composed of Half Square Triangle Units (HST), Sunshine Unit, and Four Patch Units. The block is pieced together on this quilt, except for the sailboat as it uses the applique technique.
Incorporate the sail away block into your quilts, pillows, or bags. The possibilities are endless!
Finished Quilt Measures: 12.5 inches x 12.5 inches (unfinished)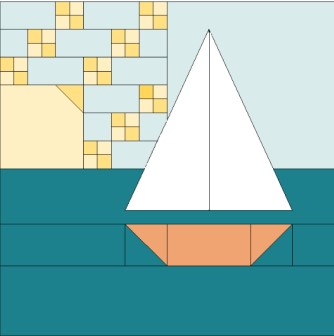 Similar Quilt Pattern: Sail Away Quilt
If you are looking for more Quilting inspiration then check out our full list of 500+ Free Quilt Patterns for beginners, intermediate and advanced Quilters. There are all kinds of quilt patterns from easy beginner quilt patterns up to advanced appliqué patterns and patchwork patterns.