Quilting is an excellent hobby because it is both a relaxing and stimulating pastime. It is not only a calming hobby but also an excellent method to demonstrate your artistic side. At present, there are 10-12 million quilters, and by 2026–2027, that number is predicted to grow to nearly $5 billion. There are a lot of wise quilting quotes and sayings that have been passed down from generation to generation. Inspire a quilter or spark a new excitement in your quilting journey with these quotes.
Quilting Quotes and Sayings
"If the knitter is weary the baby will have no new bonnet." – Irish Proverb

"When they're looking at my work, they're looking at a painting and they're able to accept it better because it is also a quilt." – Faith Ringgold

"When you sleep under this quilt, you sleep under a blanket of love.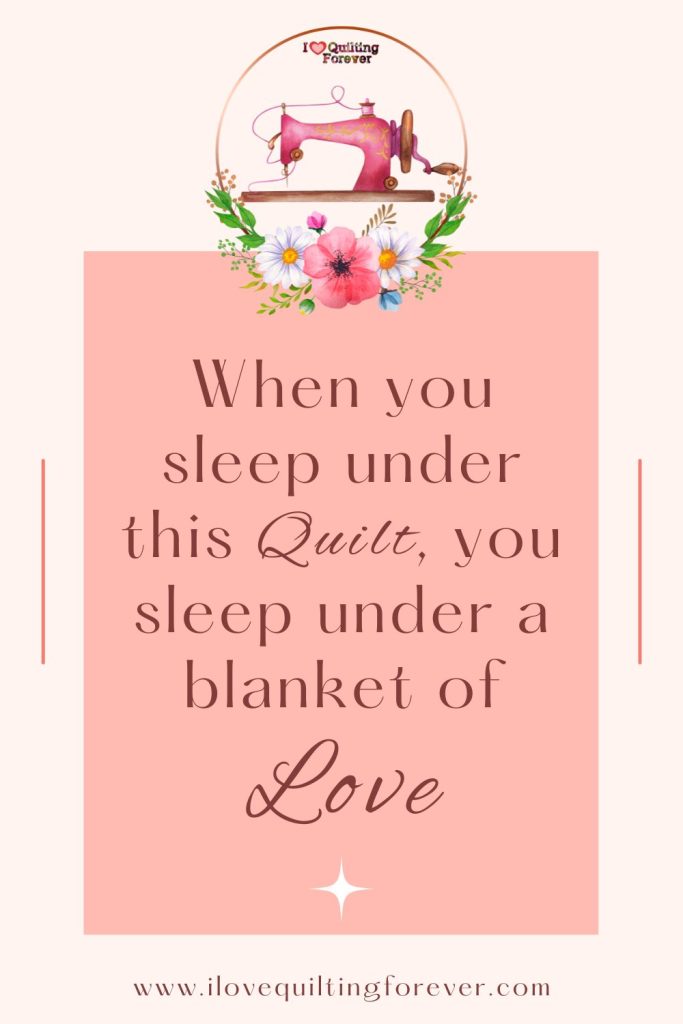 "We stitch together quilts of meaning to keep us warm and safe, with whatever patches of beauty and utility we have on hand."- Anne Lamott.

"Paintings, people really don't understand. They don't really get paintings. Quilts they do understand because everybody has a quilt in their house." ― Faith Ringgold

"Take a good look at your fabric and intuit what it is saying to you." ― Patricia Belyea

Behind every quilter is a big pile of fabric.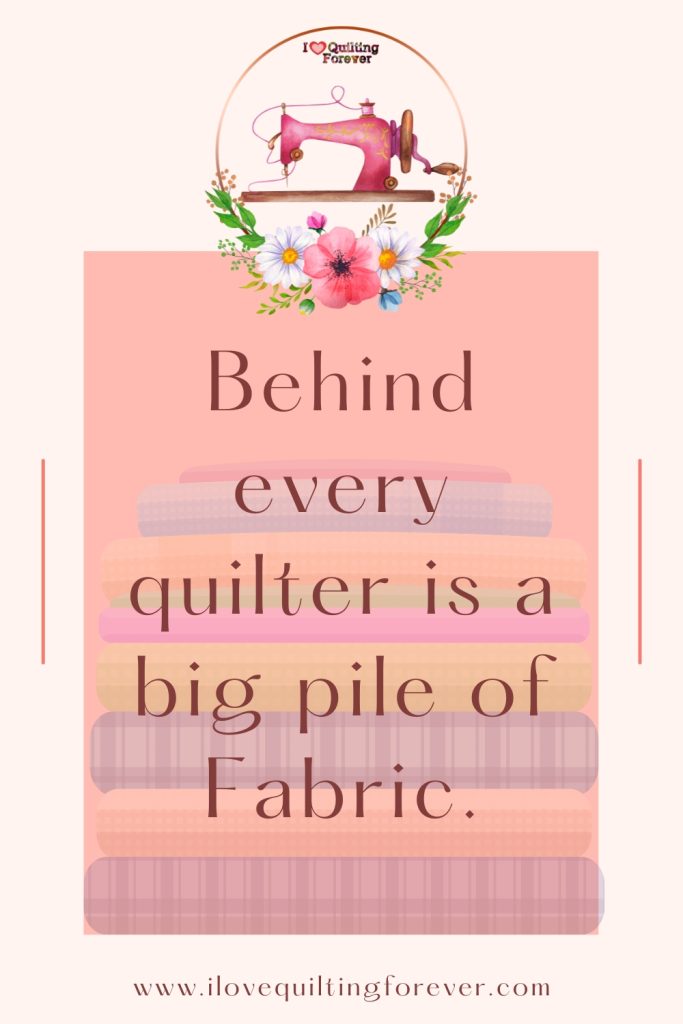 "Without craftsmanship, inspiration is a mere reed shaken in the wind." ― Johannes Brahms

"When your quilting up a life, you sometimes got to start with any piece you can get your hands on." ―Jonathan Odel

My soul is fed by needle and thread.

"Take a good look at your fabric and intuit what it is saying to you." ― Patricia Belyea

"All my scattering moments are taken up with my needle."- Ellen Birdseye Wheaton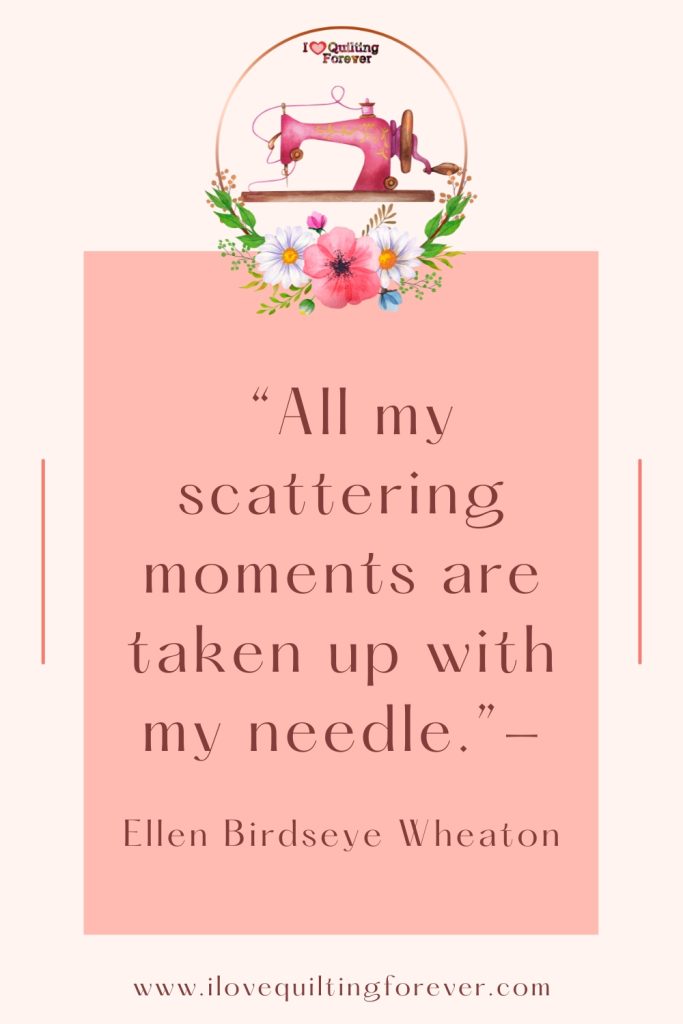 Creative clutter is more blessed than tidy idleness.

Quilting is a scrap of happiness.

"Nobody starts out a perfect quilter." – Sandra Dallas.
Our lives are like quilts – bits and pieces, joy and sorrow, stitched with love.

"To me, the beauty of a quilt or a dress lies within the stitches and the thought of the person who made them. When you spend time making something with your two hands, you impart love in a way that buying never can."- Natale.

To quilt is to live.

As ye sew, so shall ye rip.

Is a nine patch part of a twelve step program?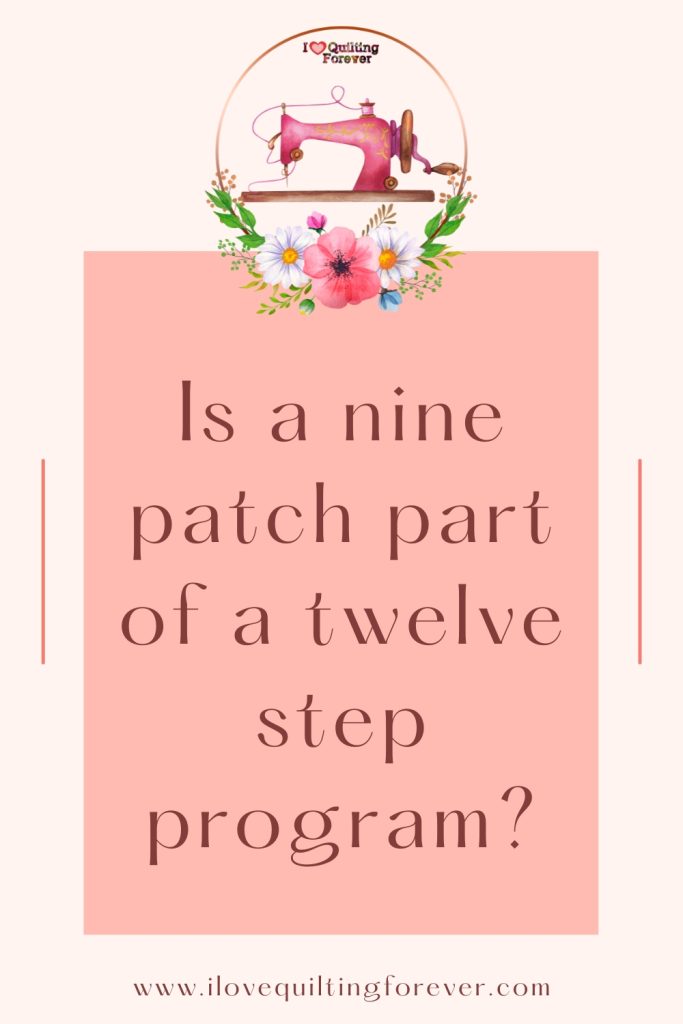 Funny Quilting Quotes and Sayings
"It's only fabric! Freestyle fabric cutting and sewing is a low-risk endeavor with a strong payoff of personal growth and empower- ment." – Patricia Belyea.

Itching to be stitching.

Warning: this vehicle stops at all fabric shops.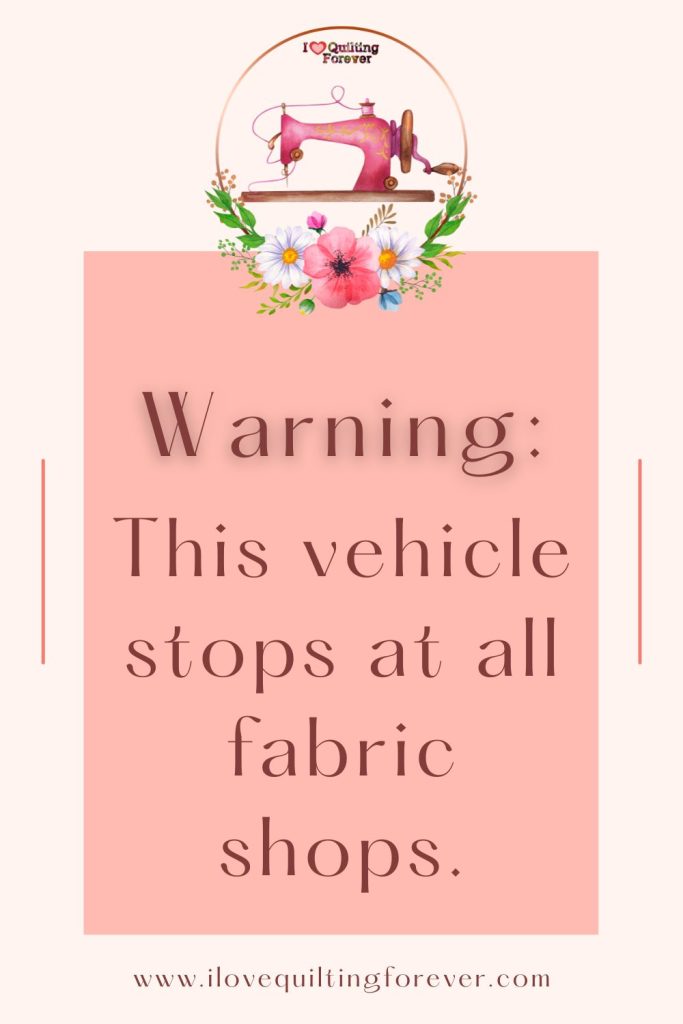 Quilting is like love… do it with abandon.

If I stitch fast enough, does it count as aerobic exercise?

Quilting… cheaper than therapy.

A messy house is the sign of a happy quilter.

Quilting forever… housework never!

I'm a fabricholic on the road to recovery. Just kidding. I'm on the road to the fabric store.
Quilting forever… housework never!

I'm working on my PhD (projects half done) in quilting

My biggest fear is that when I die my husband will sell all my craft supplies for what I told him they cost.

Don't be silly doctor! This is a "fabric stash," not a "hoarding disorder."

Measure twice. Cut once. Curse. Repeat.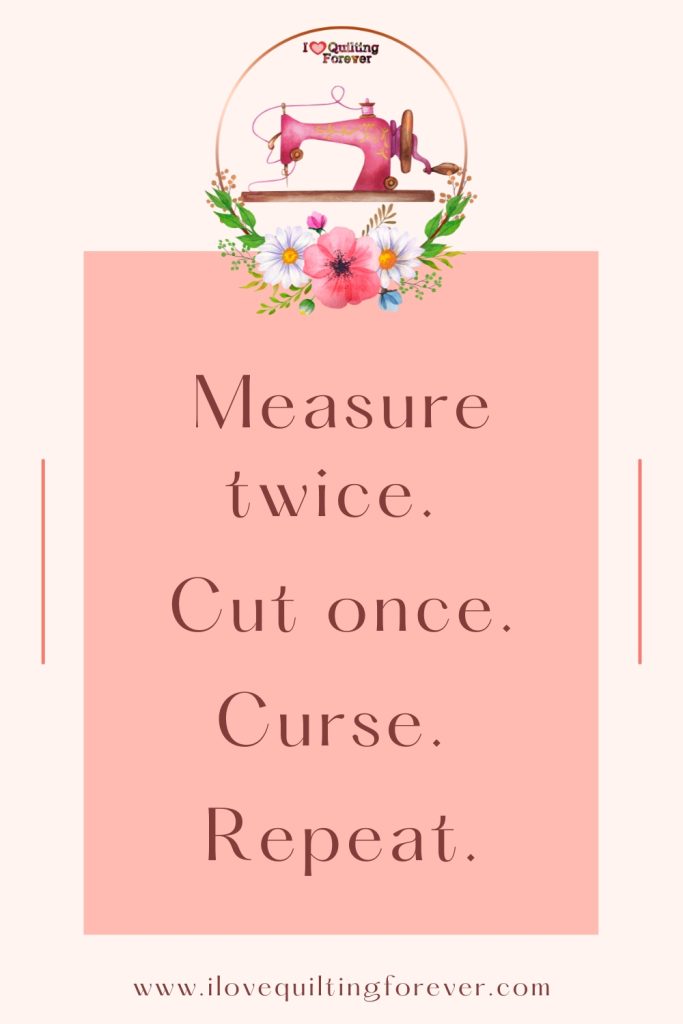 Life is short, buy the fabric.

Everybody in the village agreed that I did an excellent job of sewing their mouths shut.

Seams funny, because we like to sew.

Im a quilter and my house is in pieces.

I think my wife's sewing machine is on the blink. I'm not sure what's wrong, it just doesn't seam right.
Quilters comes with strings attached.

"I have all the fabric I need" – Says no quilter.

Quilters never grow old, they just come into pieces.

Quilting is my passion … chocolate comes in a close second.

There is a very fine line between hobby and mental illness." – Dave Barry

I've spent most of my life making quilts, the rest I have just wasted.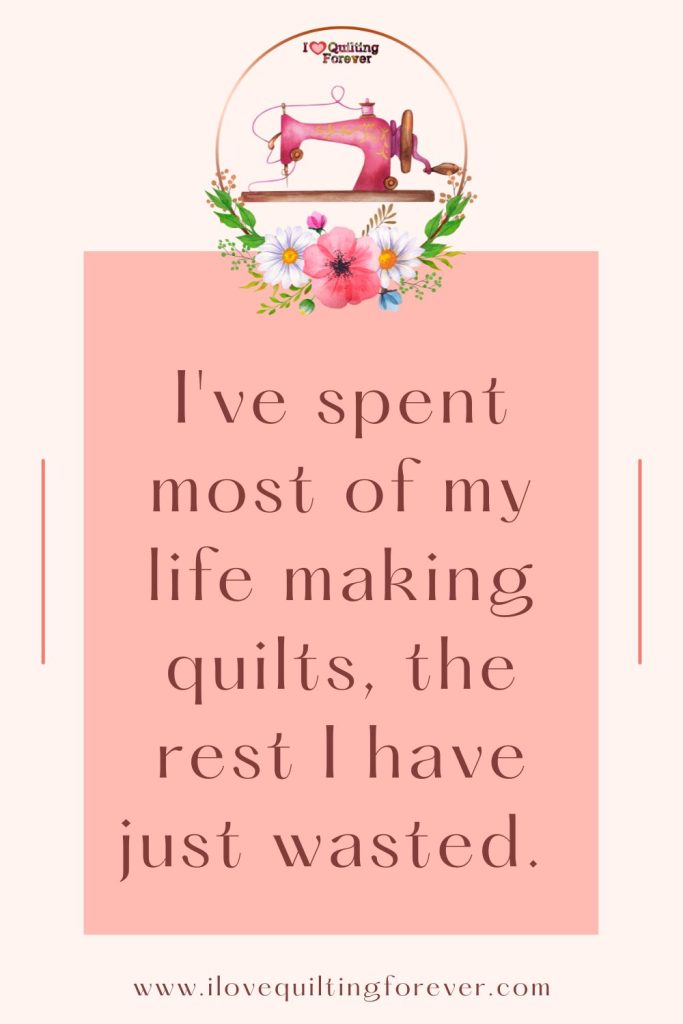 Family and Friends Quilt Quotes and Sayings
"A family stitched together with love seldom unravels." – Letty Cottin Pogrebin

"Sewing is something you do to calm you, to relax you." – Lainie Myklebust

"Two quilters who have just met will be strangers only until their mutual passion for quilting is revealed. Then they can talk for hours like the best of friends." – Jennifer Chiaverini.

"Memories are stitched with love." – Unknown Families are like old quilts. They unravel at times, but can be stitched back together with love
Families are like quilts, stitched together one piece at a time.

A quilt, like a family, doesn't have to be perfect, but it has to be inclusive.

Friendship is sewn by love and measured by kindness.

Good friends are like Quilts. They age with you, yet never lose their warmth.
Quilting spreads love, hope, dreams, and happiness. So get out there, grab some fabric, fold up your sleeves, and create something that is beautiful and meaningful.