If you are thinking of upgrading your sewing creativity, then you may be interested in buying a serger sewing machine. Are you new in the serging field and thinking of investing in your first serger machine? Singer 14cg754 profinish serger overlock machine will support you through all the learning stages.
Using a serge is not as easy as using a regular sewing machine. Still, it is relatively more efficient than a sewing machine.
In this Singer Profinish 14CG754 serger review, we will share all information about this machine. The singer is one of the leading consumer and artisan sewing machine providers. It is the most trusted and recognized company in the world. You can trust singer-serger machines because of their high quality, innovation, and affordable price.
Also Read About: Brother Serger 1034D vs 1634D
Singer 14CG754 ProFinish Serger Overlock Machine Features
Singer pro-finish 14CG754 serger machine comes with a lot of automatic and adjustable features. These features are more than enough for beginners, and pro-level sewers can also take advantage. Each feature is described below to clear your mind about this serger.
Structure and Design
Singer pro-finish serger comes in white color, which is an exceptionally attractive color for a serger machine. The machine's interior is made of heavy-duty metal, which ensures long-lasting durability and stability of the device during your work to skip free stitching.
The serger dimensions are 14 "Length x 11 "Width x 11.5 "Height and weight of only 13.5 pounds. You don't need a wide space for its storage. And the best part of its design is that it has a built-in carrying handle. You can transport it conveniently anywhere with this carrying handle
It is not an official heavy-duty sewing machine, but still, it can sew heavyweight fabrics.
Sewing speed
Sewing speed matters a lot in a serger sewing machine and singer-pro finish will never disappoint you in this department. It offers up to 1300 stitches per minute that is a professional speed for faster results. Its electronic speed control ensures consistent sewing speed with no jump starts.
Stitch options
The Singer 14CG754 serger machine comes with a 2-3-4 thread capability along with a variety of stitch options to provide you a professional look. These stitch styles include a 2 thread wrapped edge overlock, 3 thread wrapped edge overlocks, 2 thread standard rolled hem, 3 thread flatlock, 4 thread mock stretch stitches, and 3 thread overlock stitches.
Adjustable stitch length and width
You have the option to adjust the length of stitches. You can increase or decrease the distance between stitches. It is a useful function while working on various stitch techniques.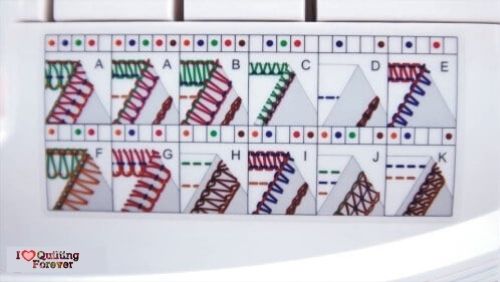 It also has an adjustable stitch width. The size of the stitch from left to right is adjustable. It is helpful to make the stitch narrower or wider according to the demand of your project. You can adjust stitch length and width with the stitch adjustment dial.
Adjustable thread tension
While working on different projects, you need an extra thread tension. It is also necessary while working on different fabric types. Singer pro finish serger 14CG754 comes with adjustable tension to make your projects easier. Tension adjustment is made with an easy-to-reach stitch adjustment dial.
Color-Coded threading
Threading a serger machine is not an easy task. But the singer pro finish comes with color-coded lay-in threading, which makes threading an easy task. The threading path for each thread mark with a particular color. It is helpful in threading, setting up, and changing the threads. Convenient reference diagrams are also included on the machine.
Differential feed
Singer serger 14CG754 has a differential feed, which eliminates the stretching and puckering of the fabrics. The differential feed controls the movement between the front and back of the feed teeth. You can adjust differential feed for perfect seams on every fabric. It helps keep stretch fabrics and bias cut fabrics from becoming stretched out.
Movable Upper Knife
Singer 14cg754 profinish serger overlock machine offers a moveable upper knife. It can be engaged to trim extra seam allowance when you sew. It can also quickly move to prevent the trimming of fabric while the sewing process.
Built-in Rolled hem
Another best part of this serger machine is that it has a built-in rolled hem. You can convert your serger for a rolled hem sewing machine with ease. Just slide the lever located on the device to use rolled hem. There is no need to change the stitch plate.
LED Lighting
This serger is equipped with a built-in LED bulb to provide bright illumination on the workspace. This LED Bulb is long-lasting and bright enough that you don't need any extra light to see the needle area.
Free Arm
The free arm feature ensures the easy sewing of trouser hems, cuffs, sleeves, and other round shape designs. When you need to use a free arm, slide off the removable compartment and enjoy easy sewing.
High Presser Foot Lifter
Singer pro-finish serger comes with a high presser foot lifter as compared to many other models of sergers. This extra high position allows you to place many layers of fabric under the foot. It also accommodates thick materials.
Carrying Handle
A carrying handle is included to make this serger portable. This carrying handle locates on the top of the machine. It is attached on both sides and folds down to the serger's backside when it isn't in use.
Singer Profinish Serger 14CG754 video
Accessories
Power cord
All-purpose foot
Tweezers
Needle set
Spreader
Foot controller
Small screwdriver
Instructional Manual
Singer Profinish Serger 14CG754 Manual
To download the complete user manual of Singer pro-finish 14cg754, Click here
Common FAQ'S of Singer 14cg754 pro-finish serger overlock machine
What type of needle does Singer Profinish 14CG754 use?
The Singer pro-finish 14CG754 serger uses a serger needle. It doesn't use a ballpoint needle. It is very important to use the correct needle for better results. You have to use singer needles types 2020-sizes 11 and 14. These needles are suitable for every type of fabric.
Does this serger cut off the extra material when it's finishing the hem/seam?
Yes, it can trim the extra material depending on the type of hems. It can't cut the row hem, but it shrinks all other kinds of hems. This serger not only trims the hems but also cleans those edges too.
Does Singer 14cg754 pro-finish serger overlock machine come with a toolbox?
No, this serger doesn't come with a built-in toolbox like many other models. It's a drawback because the toolbox ensures small accessories storage and gives proper space during sewing projects. It comes with tweezers for threading the machine and a small screwdriver.
Bottom Line
Overall, Singer 14cg754 pro-finish serger overlock machine is a fantastic unit for those just starting on. It is a necessary serger, but it can last long for users. Professionals always need a more robust, durable, and faster machine. So, this is not more suitable for advanced level sewists. But when considering its price, it is a real bargain. From a price point of view, you are getting a well-built serger with lots of adjustable features.