Tumbling Blocks quilts have long been popular due to their impressive three-dimensional effects. The artfully stacked lines of light and dark diamonds give the illusion that they are cubes. Many quilters enjoy the difficulty of making tumbling blocks quilts, from selecting the colors to make the illusive blocks to stitching the sharp-toothed diamonds together. Love the optical illusion effect of tumbling blocks? So do we! Here are compilations of our favorite tumbling blocks quilt pattern template.
Free Tumbling Blocks Quilt Patterns – Top Picks
1. Tumbling Blocks Quilt Pattern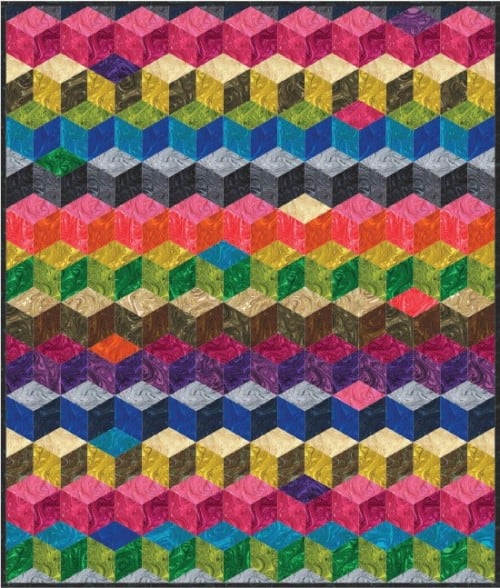 Need a companion for another alone time with yourself? Marsha Evans Moore designed this lovely quilt, which boasted of its silky-like quality with a blurred version of mosaic tiles in haphazard disco lights. It is bold and edgy, and chic. If you're an experienced quilter and want to make a challenging quilt, here is the perfect pattern for you. The finished size measures 45 ¾ inches x 53 ¾ inches.

Learn more about Tumbling Blocks Quilt pattern here.
2. Tumbling Blocks Sunrise Quilt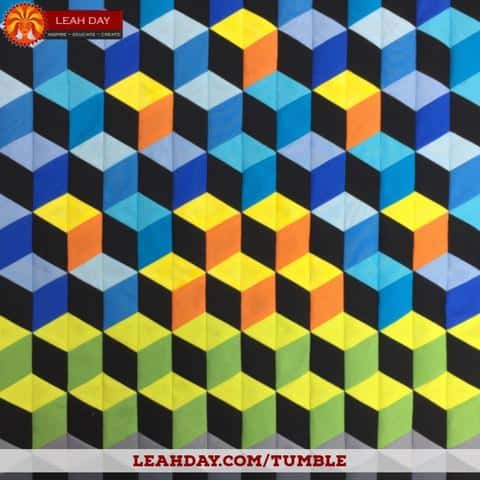 Do you want to know what it feels like to embrace a sunshine's warmth? This beginner-friendly sunrise-inspired quilt By Leah Day will make you feel snug and comfortable inside out. You'll create mini triangles that will give you a 3D illusion of a realistic building block. This tumbling blocks quilt pattern is fun to make and has no y seams.The finished size measures 16 inches x 16 inches.
3. Striped Tumbling Blocks Quilt
When you first look at this quilt top it appears to be a simple field of stripes. Then, when you view it at the right angle, you'll see the city of cubes in 3D! The Striped Tumbling Blocks Quilt is a simple variation of the tumbling blocks quilt design. With only one color of fabric used, it's quick and easy to make. Here is a tutorial from Purl Soho .

Project Finish Size: 39 inches X 46 inches
4. Jewel Tone Diamonds Tumbling Blocks Quilt
Here is a step by step guide of the Jewel Tone Diamonds Tumbling Blocks Quilt by Dione Gardner-Stephen of Clever Chameleon. Here is a step by step guide of the Jewel Tone Diamonds Tumbling Blocks Quilt by Dione Gardner-Stephen of Clever Chameleon . Dione shares her tips on how to make this quilt easily. She suggests that you break the patchwork into smaller pieces, which ignores the pictorial design and only relies on the grid-work of diamonds that underlies the tumbling blocks design.
5. Cool Blocks Quilt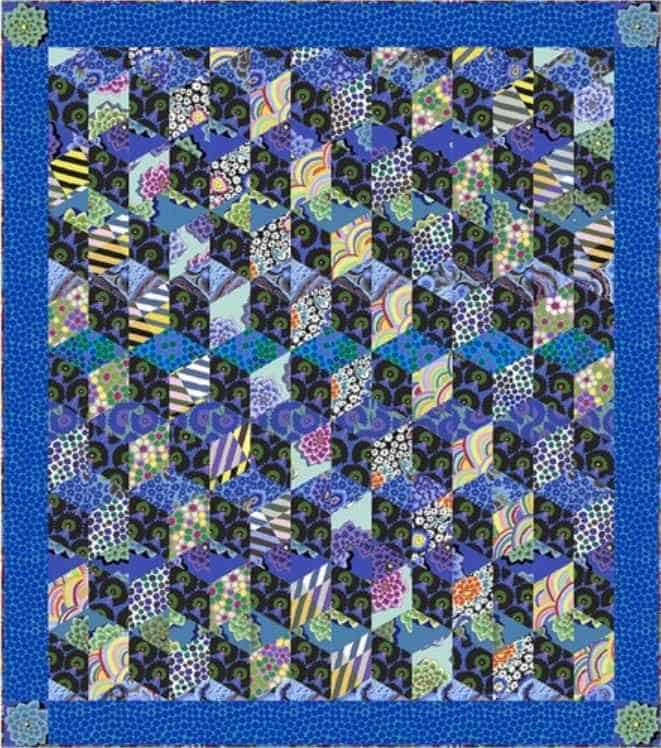 Highlighting the compelling beauty of azure, this quilt emphasizes the uncanny resemblance between the designs and sea corals. This quilt is perfect for your home design to give it a more lifelike look of the sea. You will only need to employ the traditional piecing technique to achieve this building block style. This free tumbling blocks quilt pattern is also perfect for beginner quilters. The finished size measures 73 inches x 82 inches.
6. Christmas Tumbling Blocks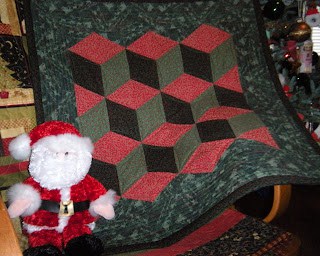 This tumbling blocks quilt pattern offers a way to create a quilt made up of triangles and diamonds without any "y" seams, paper templates, or paper piecing. The pattern calls for chain piecing, which means you piece the triangles and diamonds into strips and then sew the strips together to form the blocks. When making this pattern, choose three fabrics with good contrast. A dark fabric, a light fabric and a medium fabric that is about halfway between the two. To create the illusion of three-­‐dimensionality, you want good contrast between your fabrics.
You can add some sparkle to your holiday season with our Merriest Christmas quilt patterns.
Ready to Ship Tumbling Blocks Quilt Patterns (Paid)
1. Tumbling Blocks Quilt Pattern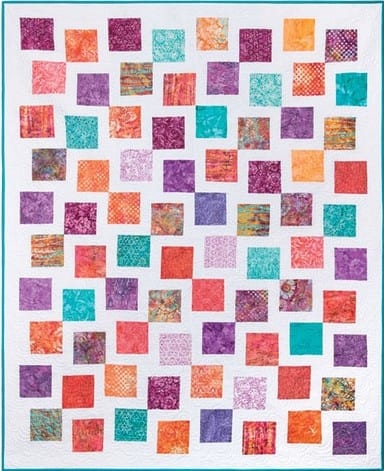 From one of the lovely designs of Annie's craft store, this quilt will make you think of rainbows and sunshine, summer night walks and wintry slow dances. You can make a cocoon out of this quilt, lending you its warmth until you feel drowsy and groggy with sleep. Its binding spell is perfect for all quilters of all levels to reduplicate. The finished size measures 52 ½ inches x 64 ½ inches.
2. Abc 3-D Tumbling Blocks Book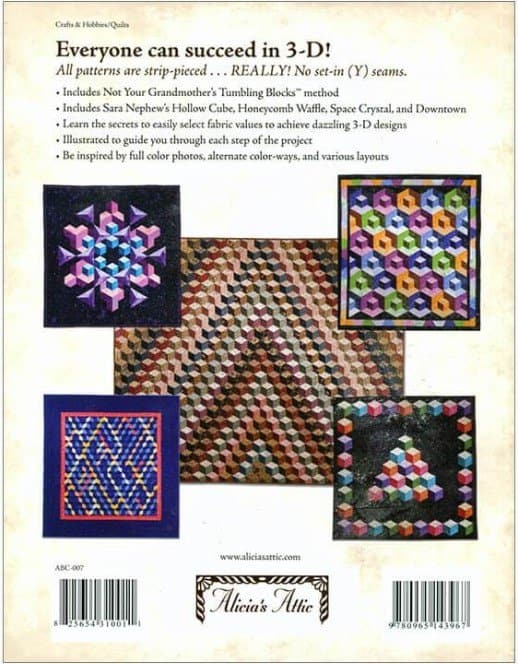 The projects in this book include 16 designs and are very well illustrated, making it easy for you to follow along. The book also includes full-color photos, alternate color schemes and step-by-step illustrations to help you explore 3D quilting. All patterns are designed with strip piecing, with no Y seams.