Other quilters love looking back at vintage quilt patterns to better understand the craft. A vintage quilt conveys the idea that a hidden narrative is buried inside each layer and the tale of its maker and receiver. Even though fabric trends have changed and sewing machines are now used, what do antique quilts look like? Uncover the stories of these timeless vintage quilt patterns!
Free Vintage Quilt Patterns – Top Picks
1. Vintage Propellers Quilt Pattern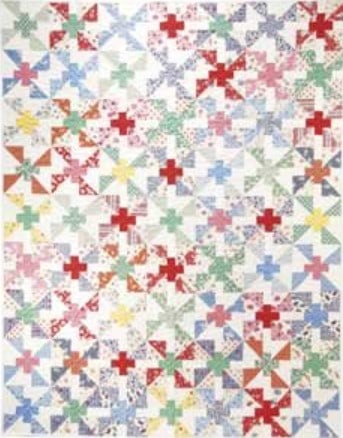 Let this astonishing vintage scrap quilt pattern of propellers challenge your creativity! To create the propellers, you only need half-block triangles, mini squares, and strips. You can be playful with your preferred color palettes. So if you're a beginner, this is easily right up your alley.

Designed by Debbie Beaves for Connecting Threads, this free downloadable vintage quilt pattern has five sizing options you can choose from:
Baby – 42 ½ inches x 54 ½ inches
Queen – 84 ½ inches x 96 ½ inches
Twin – 66 ½ inches x 90 ½ inches
King – 102 ½ inches x 96 ½ inches
Full – 78 ½ inches x 90 ½ inches
2. Bull's Eye Quilt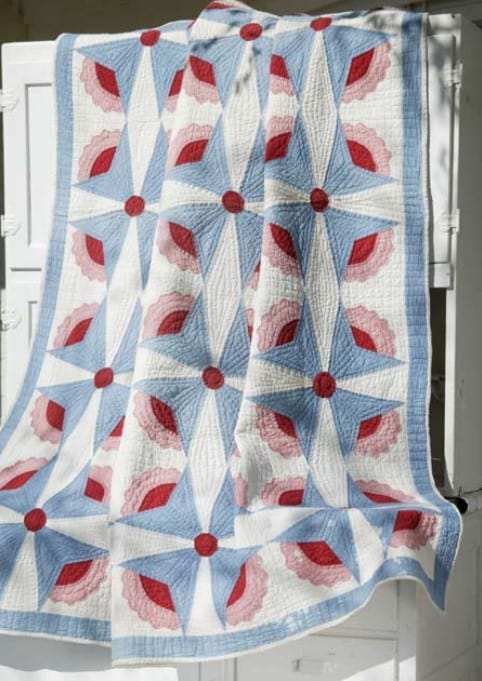 Target set, hit, then quilt! Quilters with previous knowledge of quilting will have fun recreating this old fashioned vintage quilt pattern! The creative placement of geometric shapes will give you a picturesque illusion of stars. These patterns can be done through hand appliqued and pieced. This free vintage quilt pattern to download is shared with us by McCalls Quilting.

The finished quilt measures 61-½ inches x 76 inches.

Skill Level: Intermediate
3. Summer Cabin Quilt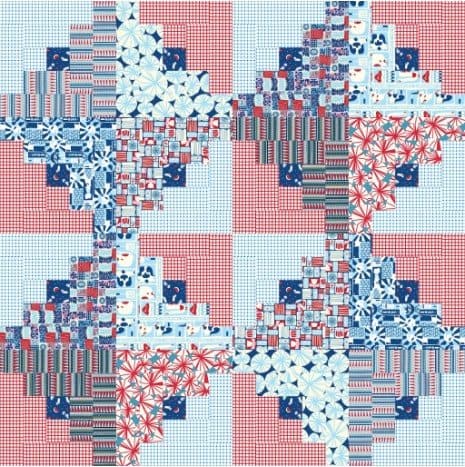 Longing for that afternoon walks in the park or the pungent smell of a barbeque under starry nights? This vintage traditional quilt pattern is the perfect companion for your summer getaways! The playful combinations of printed fabrics add more personality to the quilt, which makes this beginner-friendly log cabin quilt projectit more charming and lovable. Designed by Julie Hirt for PBS Fabrics. The finished size measures 60 inches x 60 inches.
4. Butterfly Vintage Quilt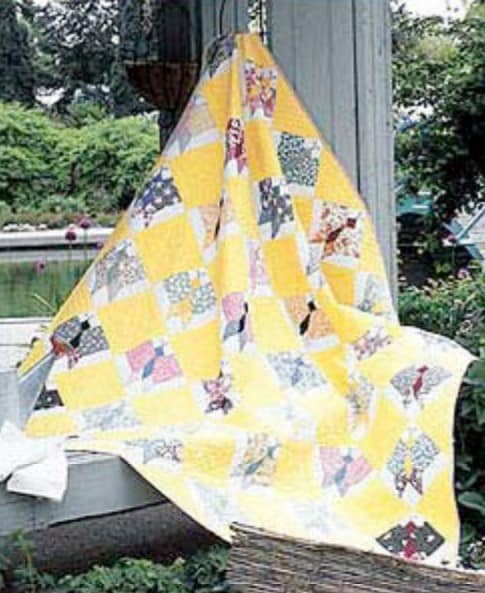 Take your time immersing yourself in this charming Vintage Butterfly quilt pattern by Janet Lyles! The different-colored butterflies will give you the best impression of how unique butterflies are. Quilters of all levels will enjoy recreating this vintage 1930's quilt pattern. The finished size measures 72 ½ inches x 84 ½ inches.
Learn more about
Butterfly Vintage Quilt pattern
here.
5. Desert Horses Quilt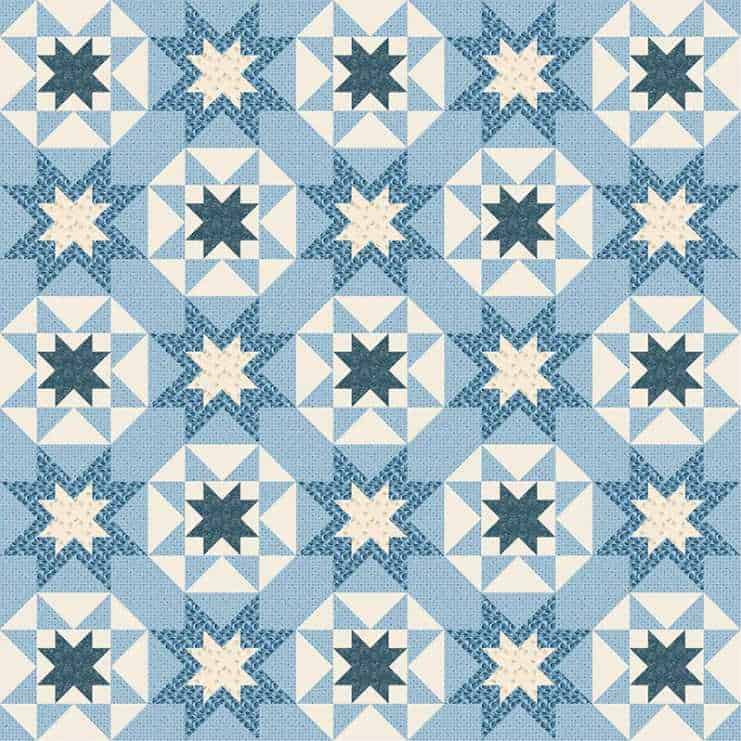 Feel free to imagine yourself riding a horse, your hair flying through the wind, and dusts coating you with this striking quilt pattern! This vintage-inspired quilt by Katie Logsdon of Modern Folk Studio features the distinctive hallmarks of the desert, a fabric collection from PBS Fabrics . It highlights the subtle elements of running horses and desert plants. If you're a beginner quilter, this is the perfect project. Intermediate and experienced quilters will still enjoy this vintage star quilt pattern. The finished size measures 80 inches x 80 inches.
6. Retro Plaid Quilt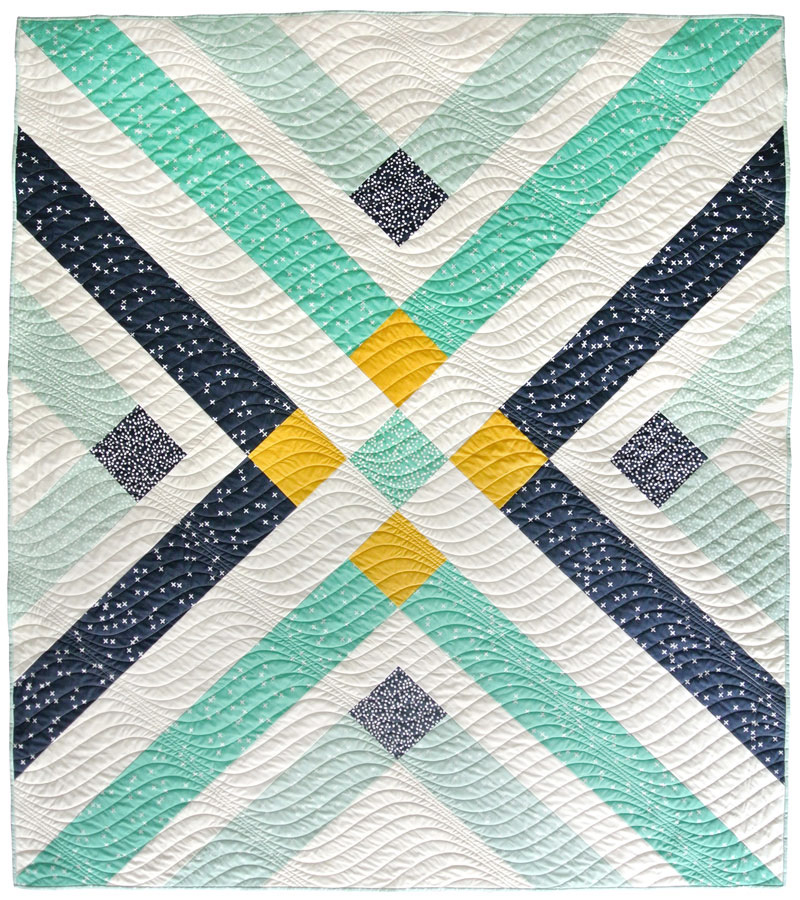 Are you having trouble looking for that perfect gift for your friend's baby shower? This Retro Plaid quilt pattern will bring brightness and allure to their little baby's bedroom! It has the perfect combination of summer and spring colors. And new quilters, don't be afraid to try recreating this quilt. It is super quick and easy, and you will be able to finished this free vintage quilt pattern in no time. The design belongs to Suzy. The finished size measures 55 inches x 61 inches.

Learn more about Retro Plaid Quilt pattern here.
7. Vintage Camping Quilt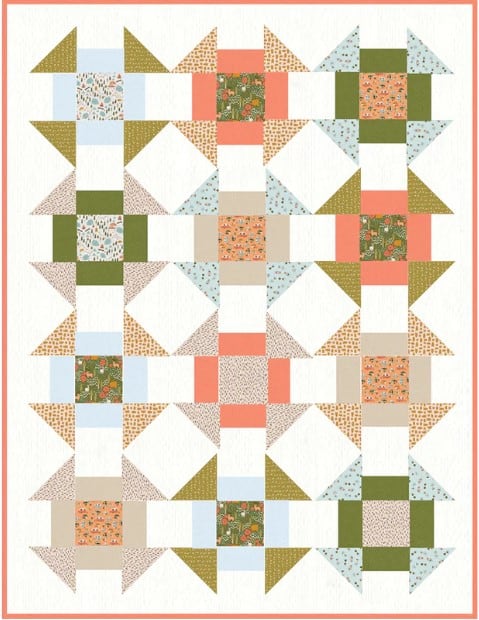 Don't forget to bring this quilt whenever you go camping! The printed fabrics feature trees and mountains, and exotic plants. It will keep you warm, cozy, and snug amidst rain, snow, or harsh winds. It is also a beginner-friendly quilt. Emily Tindall of Homemade Emily Jane designs this vintage churn dash quilt pattern for PBS Fabrics. The finished size measures 60 inches x 79 inches.
8. Wind Bells Quilt Pattern
Everyone finds it therapeutic to listen to the sparkling, chiming sounds wind bells make. This Southwest-inspired quilt pattern by AGF Fabrics featuring the Shine On fabric collection by Sharon Holland resonates just that! The pastel colors give off comfort that will lull you to sleep. You will only need half-square triangles to create this elegant pattern! Beginners and advanced quilters will have fun recreating this one. The finished size measures 96 inches x 108 inches.
9. Geese on the Pond Classic & Vintage Quilt Block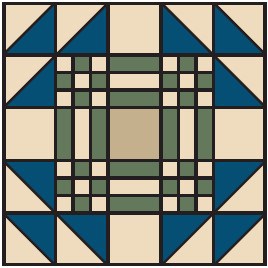 This traditional vintage quilt pattern is created by combining nine patches with half-square triangles. It becomes Geese on the Pond when flying geese blocks are added to the scene. Whether you're a beginner, intermediate, or an expert quilter, you will have fun recreating this vintage flying geese quilt pattern. Exclusive from Fat Quarter Shop, the vintage quilt block pattern unfinished size measures 15.5 inches x 15.5 inches.
10. Flower Girl Quilt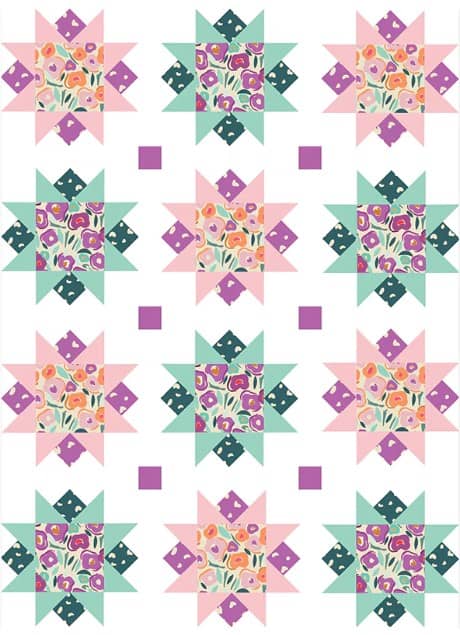 Designed by Sarah Made for PBS Fabrics, the Flower Girl quilt pattern will remind you of spring flowers blooming beautifully. Using vibrant colors, this vintage flower quilt pattern is perfect as a wall-hanging decor or a blanket couch that will attract more light to your home. The careful arrangements of half-block triangles and squares created the scenic view of taking a stroll in the garden. Beginners and experienced quilters alike can recreate this vintage antique quilt pattern. The finished size measures 53 inches x 72 inches.
11. GO! Qube 12″ Common Thread Quilt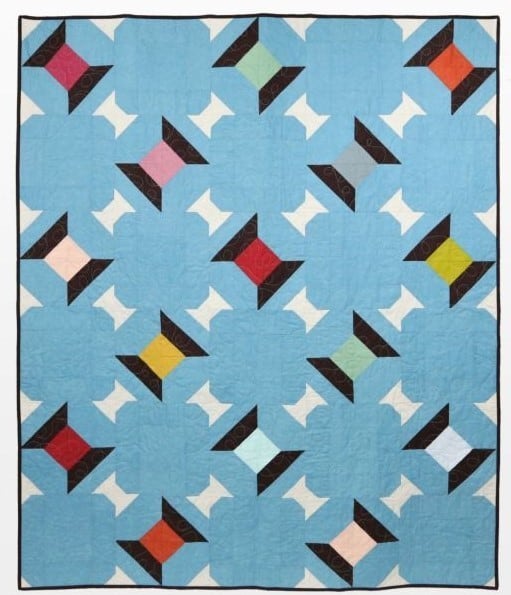 A beautiful vintage spool quilt pattern that is made of trapezoid and Half Square Triangles. This GO! Qube 12″ Common Thread Quilt is a free instant download pattern from AccuQuilt. Gather two contrasting colors to have the spool block pop-out.

Project Finished Size: 60 inches x 72 inches

Learn more about GO! Qube 12″ Common Thread Quilt pattern here.
12. Vintage Tulips Quilt
Be mesmerized by the beauty of tulips with this downloadable quilt pattern! It is designed by Kathy Hall for Andover Fabrics and employs just the perfect amount of modern and vintage that will suit your classy and chic style preferences. It flaunts the simple positioning of half-square triangles and finishes off with a tulip applique border. Quilters of all levels will have no trouble recreating this vintage tulip quilt pattern. The finished size measures 91 ¼ inches x 96 inches.
Printable Vintage Quilt Patterns To Download From Online Shops (Paid)
1. Vintage Stars Quilt Pattern
This design from Beverly McCullough is specially curated for beginners. The downloadable pattern comes with a coloring planning page and fabric recommendations. Triangles are the star of the show in this brilliant vintage star quilt pattern. Takes a beautiful stack of colorful and bright fabrics to create a more captivating piece. The finished size measures 68 inches x 82 inches.
2. Afternoon Delight Quilt Pattern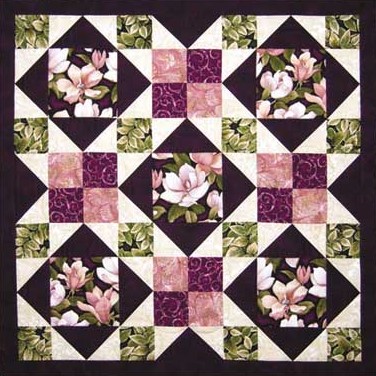 Looking for ways to utilize your bold and edgy printed fabrics? Then try recreating this beginner-friendly Afternoon Delight quilt pattern! It can easily pass as a wall-hanging decor or very elegant bedcovers. Your houseguests will definitely be fascinated once they land their eyes on this beauty. This design belongs to one of the designs of Annie's craft store.

It has three sizing options you can choose from:
Lap/wall hanging – 50 inches x 50 inches
Full/Queen – 83 inches x 110 inches
King – 107 inches x 107 inches
3. Cowboy Dates 1930 Quilt Pattern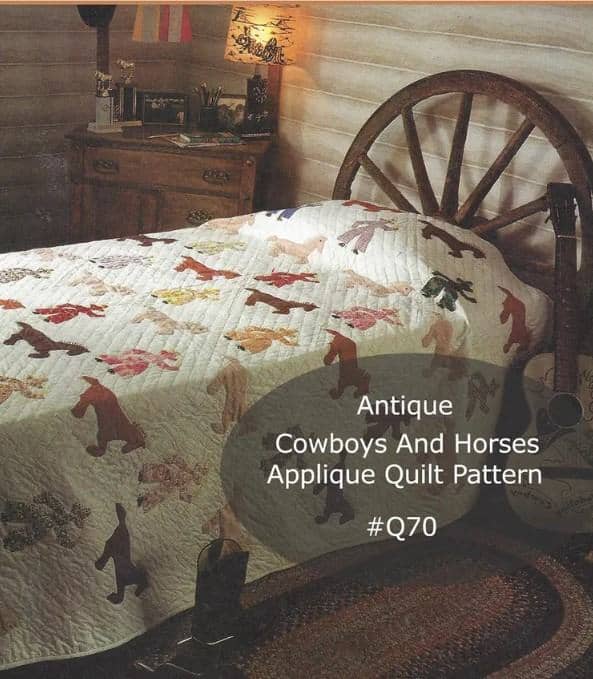 Giddy up all day! Fall asleep every night in a wild west scene when you recreate this 1930s quilt pattern. Each horse and cowboy is appliqued on a piece of plain fabric arranged in alternating diagonal blocks. The completed piece is 73 inches x 87 inches.
Ready to Ship Vintage Quilt Patterns (Paid)
1. Vintage Windmill Quilt Pattern
This design by Krista Moser oozes solace and serenity. It features rotor blade windmills. The electrifying colors make these simple shapes appealing. This is a perfect for beginners to try. The finished size measures 63 inches x 68 inches.
2. Burgoyne Surrounded (Americana #2) Quilt Pattern
Your little boy will love this eagle-inspired quilt pattern as their safety blanket! It is a simple alternating design of mini squares and rectangles bordered with eagles associated with masculine qualities. This is the perfect patriotic quilt project for beginners who are just starting their quilting journey. Designed by Elaine Harris, the finished size measures 63 inches square.
There's no need to visit thrift stores or auction sites for a classic home design or present. I hope you got new inspirations from these old but gold patterns!