Are you struggling with what gift you will give your little boys other than toy trucks of any kind? Fret not! We compiled the best patterns to create for your son, grandson, or nephew. All designs are suitable for all quilters of every skill level.
Free Boy Quilt Patterns – Top Picks
1. Tractor Quilt Block
Kids enjoy playing with all different kinds of toy trucks, and they will absolutely love the Tractor Block quilt pattern. The pattern highlights farm and construction appeal to children. Don't be intimidated by the complicated look. It's all about the perfect precision of squares and rectangles.
The finished quilt measures 14.5 inches x 14.5 inches.
Learn more about Tractor Quilt Block pattern here.
2. Little Sailor Quilt
Are you looking for a beach-themed bedroom for your boys? This Little Sailor quilt pattern will give you that sunkissed, windy atmosphere beach vibe. This scenic pattern will transport your kids to their favorite sailing moments. You only need 16 various colored fabrics cut in triangles and white strips to create this pattern! It is recommended for beginners and experienced quilters alike.
The finished quilt measures 60 inches x 60 inches.
3. Under Construction Quilt
If your child is an aspiring engineer in an early age, this quilt pattern is the best gift! It is vivid and rich with bright colors that feature all kinds of construction vehicles. The pattern is designed by Ramona Rose for Robert Kaufman and the finished quilt measures 42 inches x 44 inches. Whether you're a confident beginner, intermediate, or advanced quilter, this pattern is fun and easy to create.
4. Arrows Aweigh Quilt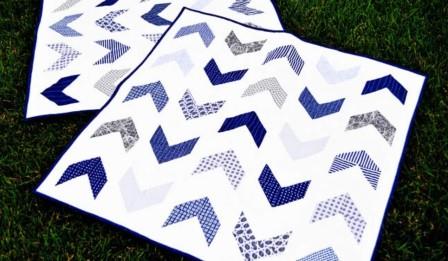 This simple yet alluring pattern will make your boy's bedroom more stylish. The pattern highlights the alternating use of navy blue and gray color palettes. Feel free to use the color of your choice. It showcases up and down arrows. This pattern is ideal for quilters of all skill levels.
The finished quilt measures 36 inches x 36 inches.
Learn more about Arrows Aweigh Quilt pattern here.
5. Rocket Ship Pillow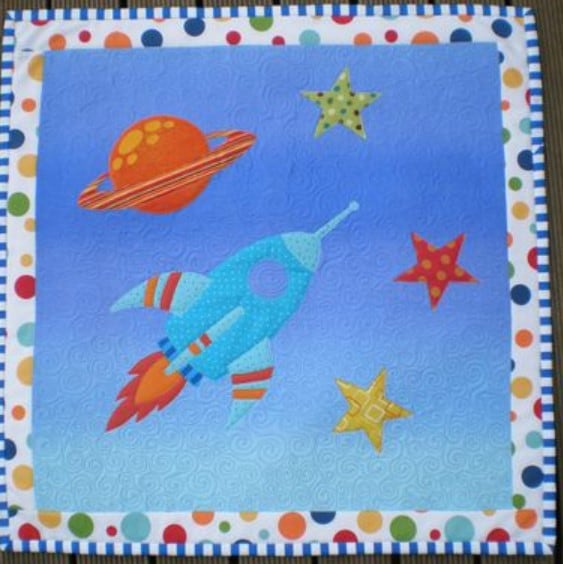 Let your little boy enjoy outer space with this Rocket Ship Pillow. A playful quilt project that will show their interest in being an astronaut and exploring the galaxy. This space theme quilt is great for your scraps, use bright colors to make this pillow a center of attention.
Learn more about Rocket Ship Pillow Quilt pattern here.
6. Airplane Quilt Block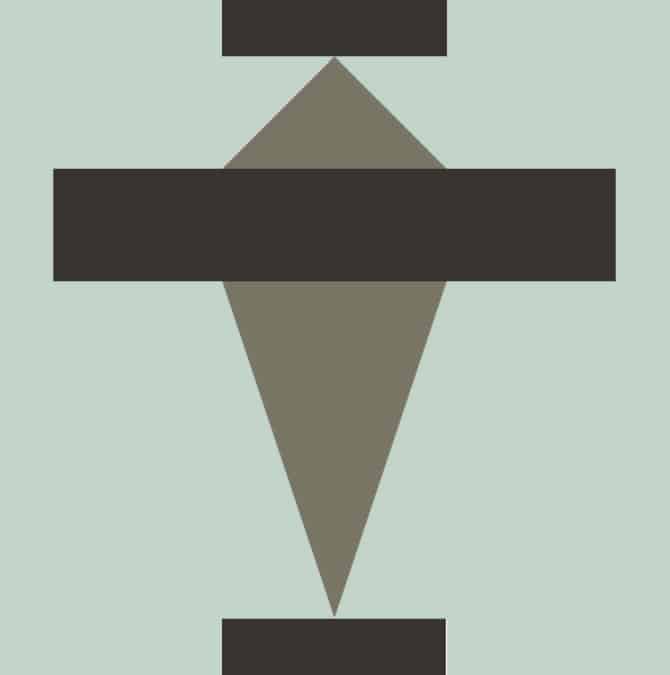 If your boys love airplanes, this is an ideal quilt pattern. Take them in the sky all day with this bright and easy design. You can effortlessly recreate this pattern and play with your imagination on how you will arrange the airplanes. It was designed by scissortail quilting.
7. Road Runner Quilt
Who doesn't love cars? Every boy will fascinate by this pattern that highlights various vehicles and road signs. It is perfect for your kids who love collecting car toys. The cars, roadblocks, and traffic light designs will make them feel it's playtime all day, even in their bedroom. You only need applique patchworks and a base fabric to recreate this pattern. The pattern is suited for experienced quilters. Designed by Craft Passion,The finished quilt measures 64 inches x 86 inches.
Printable Quilt Patterns for Boys To Download From Online Shops (Paid)
1. Monster Truck Quilt
This Monster Truck Quilt Pattern will enthrall your little boy. After all, little boys do love trucks. Delight your boys who love trucks with this pattern! It may look intimidating but is actually beginner-friendly. Intermediate and experienced quilters will also enjoy bringing out their creativity with this pattern. The simple pieced pattern only integrates half-square triangles to form the monster truck design. Lisa Muilenberg designs this. A wide range of sizes is available so you can make one for your little boy or the big brother.
Three sizing options:
36 inches x 42 inches
24 inches x 28 inches
48 inches x 56 inches
2. Ready, Set, Soar! Quilt
It is commonly known that kids are fascinated with airplanes. Do you little boy love airplanes? Customize this pattern with his name. It highlights an aircraft flying a name banner. The rectangular patterns symbolize the height of the fly. It is also perfect for gender reveal. This design from Amanda uses the applique technique.
The finished quilt approximately measures 38 inches x 45 inches.
3. Good Nite Train Quilt
Boys are inherently drawn to fast-moving, wheeled objects like trains. If your child likes "choo-choo", this pattern is a perfect addition to his bedroom. It features a moving train. The inviting ambiance of the train will lull your little boys to sleep. It was designed by Janel Metsker. It is best for beginners and experts alike. The design belonged to Janel Metsker.
The finished quilt measures 62 inches x 86 inches.
Ready to Ship Quilt Pattern for Boys (Paid)
1. I Love Dirt Quilt
Diggers, bulldozers and cranes stimulate your boy's imagination. This pattern is the appropriate quilt for a baby's construction-themed bedroom. Don't worry if you're just starting your quilting journey, it is designed for quilters of all levels. Karen Bennett crafted it, and the final measurements are 47.5 inches x 55.5 inches.
These astonishing quilting patterns will undeniably delight your little boys! Whether your kids love trucks, trains, or cars, these designs are all you need to achieve your desired bedroom theme for your kids.

If you are looking for quilt patterns with neutral designs then you might want to check our Top Quilt Patterns For Baby Boys and Girls. These patterns have gorgeous designs that you can use to create beautiful quilts for your little boy or girl.