When planning to quilt, you must know the right size for what you are quilting for. You can't start quilting without the exact measurements to mind because it will just ensue confusion and frustration. One of the quilting essentials is to know what size is ideal for you. Listed below are some of the quilt sizes you can use:
Below is the list of Quilt Sizes with a Bonus Quilt Size Chart for easy reference:
The Standard Baby/Crib Quilt Size
If you want to learn how to start quilting the Standard Baby/Crib quilt size, it ranges from 36 inches x 52 inches to 30 inches x 40 inches.
Start creating your baby quilt projects, and let your little one have a good night sleep.
Lap Quilt Size
The common size for a Lap Quilt Size measures 45 inches x 45 inches.
Throw Quilt Size
For a Throw Quilt Size, you can have two sizes for it: 50 inches x 65 inches and 54 inches x 64 inches.
Twin Bed Quilt Size
The usual measurements for a Twin Bed Quilt are approximately 70 inches x 90 inches.
Extra Long Twin
For an Extra Long Twin quilt size, you can double the size of the standard measurements for a Twin Bed Quilt size, which measures 70 inches x 90 inches.
Full Or Double Quilt Size
If you want to create a Full or Double quilt, the standard measurements for it are 85 inches x 108 inches.
Queen Quilt Size
There are two exact measurements for Queen Quilt, which are 90 inches x 108 inches and 90 inches x 96 inches.
King Bed Quilt Size
As for the standard size for a King-Sized Bed Quilt, it has also two standard measurements, which are is 108 inches x 110 inches and 95 inches x 108 inches.

Check out these king size quilt patterns we gathered to make any room feel warm and welcoming.
California King Quilt Size
If you'd rather have the ideal California King Quilt size, it has a measurement of 100 inches x 102 inches.
Basic Quilt Size Chart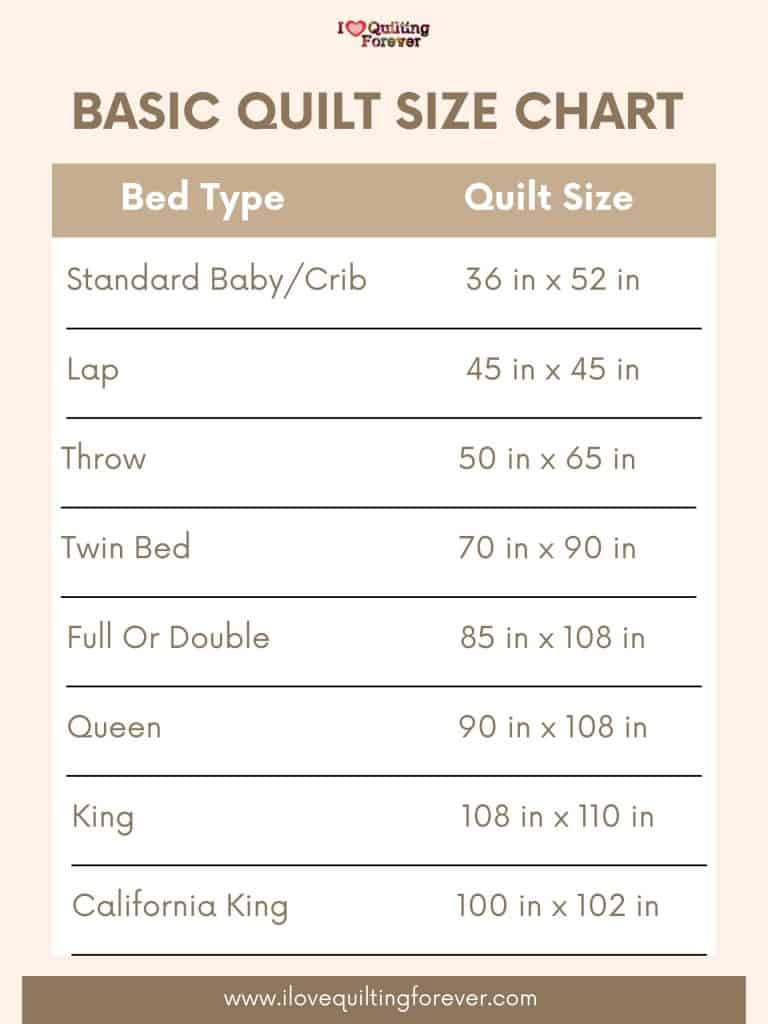 Printable Quilt Size Chart PDF here.
Quilt Size Chart Guide

Now that you have a brief introduction to the different sizes in quilting, grab your fabrics and sewing machines to kick off your quilting journey with a bang!